Mike Swift: August 21, 1944 – July 19, 2023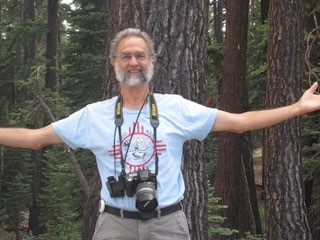 Mike Swift was a very active and valued SFS member for years. Mike set an example for all of us with his love for sharing science and being a volunteer to the Society. He served as our SFS Treasurer from 2011-2021 and was a member of the Finance Committee for years before and after.  He was selected for the SFS Distinguished Service Award in 2020. Mike mentored many in the Society and at St.Olaf College, where he was a devoted teacher for decades. 
Mike Swift, age 78, of Northfield, Minnesota, passed away on Wednesday, July 19, 2023, at Three Links Care Center in Northfield.
Mike was born on August 21, 1944, in Berkeley, California, to Joseph and Mary (Crane) Swift. He has lived in Northfield since 2005. He married Anne Walter in May of 1977, the beginning of a deep loving partnership.
Mike grew up in Westwood, Santa Rosa, El Cerrito, and Pleasanton, California as the oldest of six children in a busy family. He swam in high school and college and was the drum major of the marching band.
He received his bachelor's and master's degrees at UC Davis studying biology and limnology at Castle Lake. An expedition along the Pacific coast on Stanford's Oceanographic research vessel Te Vega was a career highlight that was followed by his PhD training at the University of British Columbia where he studied energetics and vertical migration of Chaoborus larvae and then postdoctoral fellowship in Saskatoon on alkaline lakes. His career was as a teacher and researcher exploring freshwaters in North Carolina, Maryland, Ohio, and Minnesota – sharing samples and ideas with others across the globe.
His most recent position was at St. Olaf College teaching biology, especially invertebrate biology and his other passion comparative vertebrate anatomy; former students remember honing their dissection skills under his guidance. In addition to more routine courses, he and Anne traveled with students to witness biodiversity and ecology in Australia, India, Ecuador, and Morocco; as well as often teaching a summer bridge course for underprepared students matriculating at St. Olaf. Mike especially loved helping students who struggled to find their voices and talents. They also shared sabbaticals in Charlottesville at the University of Virginia and at Madras Christian College as Fulbright Nehru Lecturers in India where they were welcomed and made many friends.
Mike shared his love for his research organism, the world's most beautiful insect larvae, Chaoborus, with anyone who would listen. He also shared his love for streams and lakes widely – many children made discoveries of what is living under rocks when he coaxed them to look. Multiple summers were spent teaching at the Wilderness Field Station in the Boundary Waters taking students on extended field trips that included life lessons on paddling a canoe, cooperation and endurance. He also initiated a long-term monitoring program for endangered freshwater mussels that required an annual sampling trip with his collaborator into the Boundary Waters, one of his favorite places on earth.
Mike was a life-long member of multiple scientific societies, but his scientific "home" was the Society for Freshwater Science, for which he served in multiple capacities, including 12 years as Treasurer and champion of the annual auction and fun run. He was a consistent all-weather long-distance runner until his hips gave out and supported younger runners by working the finish line and taking photos at events. When he wasn't running, he was collecting and processing black walnuts or supporting former students in their careers – dancers, artists and many scientists.
Mike was kind and generous to all, especially to those in need, never calling attention to himself. For example, Mike was a life-long blood donor, donating over 21 gallons.
He provided constant and unfailing love and support for his wife -- to whom he was totally devoted -- and his extended family that includes taking care of his mother-in-law as he would his own mother.
He had a life-long concern for the environment choosing high mileage cars. Mike was an early adopter of solar panels, rain barrels, and composting at home, where he carefully designed a native plant rain garden and milkweed plantings to make a gorgeous landscape and attract Monarch butterflies.
Mike is survived by his wife, Anne Walter; siblings Brian (Karen) Swift, Mary (John) Ljung, Dennis and Peter Swift, sister-in-law Doreen Irby Swift; nieces and nephews Lily Swift, Holly Swift, and Rose Swift, Joseph Swift, Lukas Swift, Adam Swift, and Aisie Swift, Elin Ljung and Heather Ljung.