Endowment Awards
Deadline: 2021 was 12 March for the following awards: 
Boesel-Sanderson Fund
General Endowment
Simpson Fund
Systematics Fund
2021 Virtual Annual Meeting: Student Registration Fee Waivers (2021 application period closed on 10 April)
Registration awards are available to cover the $30 student registration fee for graduate and undergraduate students attending the 2021 SFS Virtual Annual Meeting. This award is not merit based, meaning that selection of applicants is not based on student achievement. We hope to be able to use this award opportunity to increase the diversity of our student community. Demographic information will be used to assist us in that process, but providing this information is optional, and individual responses will be kept strictly confidential. 
The remaining awards do not yet have a deadline.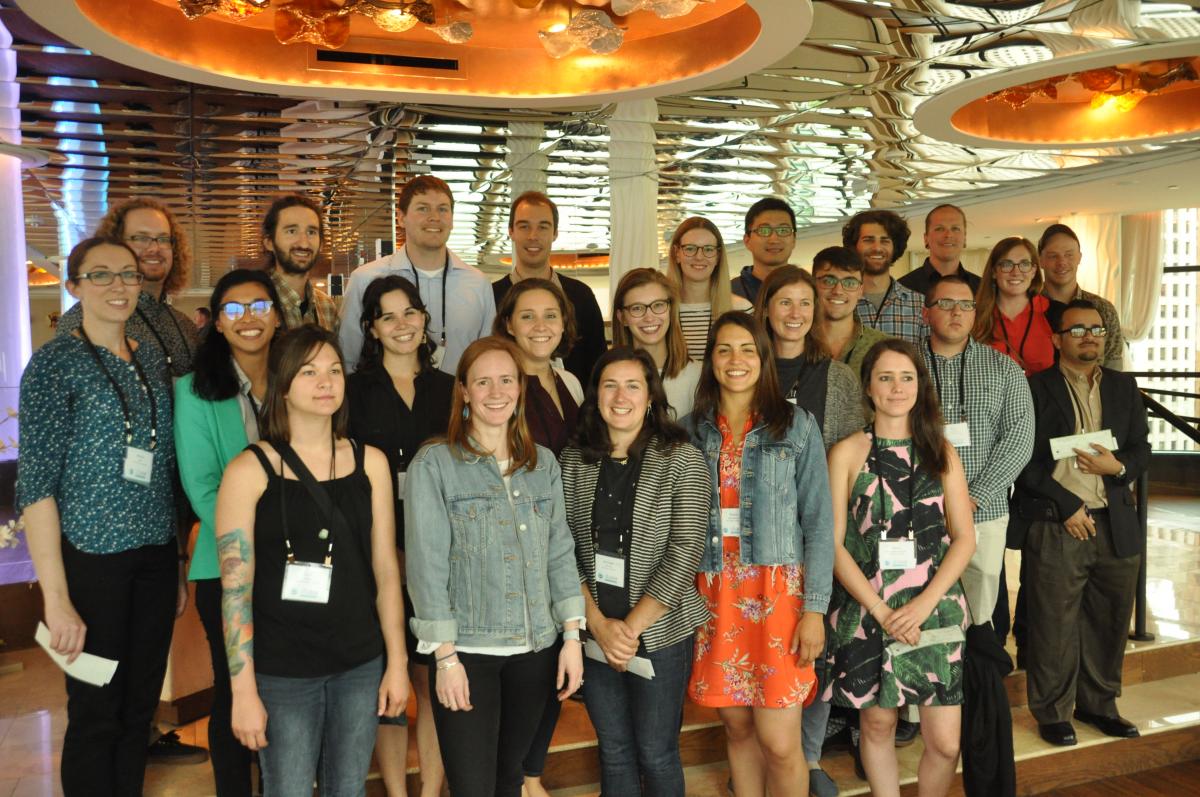 Photo: 2018 Student Endowment Awardees
Eligibility
Applicants must be CURRENT STUDENT members of SFS, with the exception of the Systematics Award for which researchers, as well as students, are eligible.
Student award winners should be present at the annual meeting to receive the award.
Students will only be eligible for one award during a specific degree program (i.e., only one during a B.S., B.A., M.S. or Ph.D. degree).
A student cannot receive both an Endowment Award and a Conservation Committee Award in the same year.
Students may receive only one award in an award year and must identify the funds (Awards) for which they wish to apply.
The major professor/advisor of applicants must supply confirmation of graduate student standing.
There are no restrictions on how the awards can be spent from the General Endowment, Boesel/Sanderson, Simpson, or Systematics funds, but it is assumed that disbursements will be directly related to research leading to student degree programs, including travel to the SFS meeting. Funds from the Americas, Fellows, and Peterson funds must be used to support travel to the SFS meeting (i.e. recipients must attend the SFS meeting that year and give a presentation related to their research).
The Board of Trustees of the SFS Endowment Fund encourages students to apply for this year's Endowment Awards! These awards recognize excellence among our student members and are designed to support student research in a variety of areas.
The SFS Endowment Awards are based on research merit. The awards are supported by the General Endowment Fund, seven named funds below, and the Student Resource Committee (SRC). The various funds and eligibility criteria are described below. Applicants for a named fund will also be considered for the General Endowment Awards.
Funds
Americas Fund provides a travel award for a student from Latin America (1-2 awards of ~$1,300).
Andy Sheldon Fund for Field Ecology in Streams supports students doing field-based research in stream population or community ecology to attend annual SFS meetings (1 award of ~$1,000). Established in memoriam of Andy Sheldon.
Boesel-Sanderson Fund supports research on the natural history of organisms (1 award of ~$1,000). Established in recognition of Marion Waterman Boesel and Milton W. Sanderson.
Fellows Fund provides a travel award for Australian students (2 awards of ~$1,800). Established in memoriam of Christine (Christy) Susan Fellows.
General Endowment Fund supports any area of research (14 awards of ~$1,000 each).
Mulholland Fund for Biogeochemical Research supports travel to the annual meeting for students studying stream biogeochemistry (1 award of ~$1000). The fund was established in honor of Patrick (Pat) Mulholland.
Petersen Fund provides travel award for non-North American students (2 awards of ~$1,000). Established in memoriam of Robert (Bob) Carl Petersen.
Simpson Fund supports research in applied issues (1 award of ~$1,000). Established in memoriam of Karl W. Simpson.
Systematics Fund supports various research expenses (including, for example, publication costs) in the area of taxonomy and systematics (2 awards of ~$1,000).
Conservation Fund (1 award at ~$1500) Awarded separately; 2020 deadline is Monday, February 17. Information here.
Undergraduate Travel Award sponsored by the SRC (5-6 awards of $500 each; NOTE: These awards are not available in 2021 as the Annual Meeting will be held virtually.).
If you have any questions or concerns regarding undergraduate travel awards, please feel free to contact Sam Silknetter, silknets@vt.edu.
How to Apply
The application consists of two parts:
Basic applicant information.  Note: non-students applying for the Systematics award do not need to complete the degree program information.
One-page description of your research or proposed research uploaded as a PDF, DOC, or DOCX. Please see the instructions in the link below for the one-page description and follow the formatting guidelines.
Applications must be submitted electronically on the SFS website using the link below.
If you experience any technical difficulties in submitting your application, please contact the web editor (webeditor@freshwater-science.org).
For all other questions, please contact the committee chair: Amanda Rugenski, atrugenski@uga.edu.