Instars Program
Deadlines: 
EXTENDED! 8 February 2020 - Instars Fellows Application for Funding
22 February 2020 - Instars Graduate Student Mentors
1 April 2020 - Instars Fellows Application without Funding

Instars is a mentoring program sponsored by the Society for Freshwater Science for undergraduate students from under-represented groups interested in freshwater science. Instars also provides opportunities for networking among graduate students, faculty, and professionals hoping to encourage diversity in the freshwater discipline. Launched in 2011, the 10th installment of the program will take place at the Madison meeting in June 2020.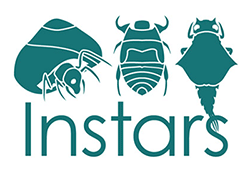 The Instars program plans to support annual meeting expenses for at least 10 new Instars Fellows for the 2020 meeting in Madison, Wisconsin. For details on the application process and selection of fellows please contact Checo Colón-Gaud or Judy Li. To maximize the number of students we can serve, programs or institutions are also encouraged to sponsor undergraduates by providing registration fees, travel and/or other costs associated with attendance at the conference. The Society will sponsor the Instars workshop, a special Instars session and associated activities, and there will be no expenses for the Instars program itself. If there are extraordinary circumstances requiring financial assistance, faculty sponsors are encouraged to contact Checo Colón-Gaud (jccolongaud@georgiasouthern.edu) or Judy Li (judyli@comcast.net).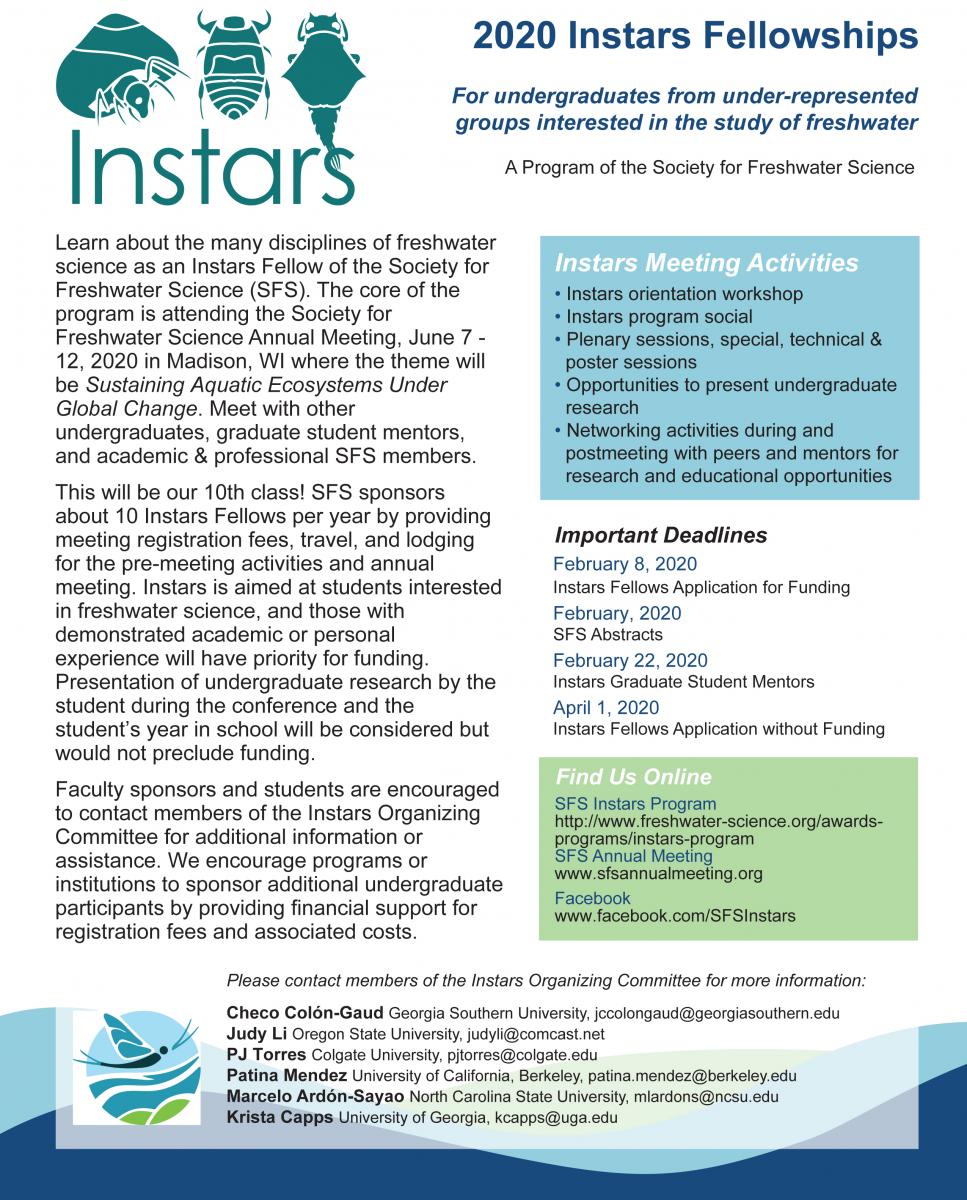 Download the 2020 Instars Program Announcement
Workshop & Activities
We hope to inspire and excite students about our science by offering activities with other undergraduates, graduate student mentors, and professional SFS members that will include:
A half-day, pre-meeting orientation workshop
Networking activities with peers and mentors during the meeting
Attendance at plenary sessions and a full range of special, technical, and poster sessions chosen by students
Opportunities for undergraduates to present their own research in general sessions with friendly review from SFS members
Post-meeting networking and linking to research and educational opportunities in aquatic science
Instars Mentors
The program will sponsor Instars Graduate Mentors by providing a modest stipend for the annual meeting. Student membership in the society is a priority for funding Instars Graduate Mentors; the potential for presentation by the graduate mentor during the conference, and the student's number of years as a member of SFS will also be considered but would not preclude funding. More info.
How to Apply
Apply using this form
Previous Participants
(coming soon)
2011 Program Participants
2012 Program Participants
2013 Program Participants
2014 Program Participants
2015 Program Participants
2016 Program Participants