Leadership Award
Checo Colón-Gaud - 2021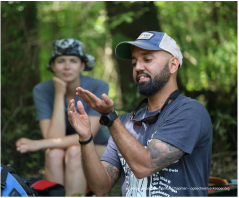 The Society is pleased to award the inaugural Leadership Award to Dr. Checo Colón-Gaud for his relentless and ongoing work to improve and expand diversity, equity, and inclusion within the SFS community. 
Checo is a professor in the Biology Department of Georgia Southern University. He received graduate degrees in Fisheries from Louisiana State University and Zoology and Ecology from Southern Illinois University. His research focuses on the role of consumers in organic matter dynamics, nutrient cycling, and energy flow in streams and other freshwater habitats. Through his research, teaching, and service to the society, Checo leads by example and demonstrates an unwavering commitment to ensuring that all individuals feel at home within SFS and the broader freshwater ecology community. 
As a new assistant professor in 2011, Checo led the grassroots effort within SFS to start a mentoring program that provides opportunities for networking among graduate students, faculty, and professionals hoping to encourage diversity in the freshwater discipline. In the ten years since its initiation, the Instars Program has become an official and celebrated part of the annual meeting program, and Checo's mentorship has engendered a true love for the SFS community among former Instars Fellows and Mentors. They describe Checo's ability to enthusiastically engage, patiently train, and see and appreciate the work and energy of young scientists as a pivotal role in leading SFS toward a more inclusive scientific society. With the recent National Science Foundation award, this program continues to grow under the direction of Checo and other members, and has expanded to " Emerge", which is SFS's official mentoring program for undergraduate students from under-represented groups interested in freshwater science.
Checo's leadership has made a genuine and lasting contribution to the betterment of our society that extends beyond the Instars program. Many former graduate mentors describe how Checo and the Instars program has provided a key bridge that has led to more active society involvement by graduate students and early career members and helped shape their vision for diversity, equity, and inclusion in their own institutions. Checo is a key LGBTQ+ ally and leader in Diversity, Equity, and Inclusion (DEI) work, and all of his efforts make SFS a safe place for all members. Checo was a guiding voice in the recent manuscript published in Freshwater Science, Abernathy et al. 2020. This paper highlights the positive efforts of SFS to promote diversity, equity, and inclusion, while also identifying opportunities for continued improvement and expansion of SFS diversity initiatives. While DEIJ efforts can often be criticized, Checo was deliberate in turning the manuscript into an opportunity to demonstrate the importance of inclusivity and promote the mission of diversifying society membership.  
Checo also leads diversity efforts through involvement in the Education and Diversity Committee and SFS Board of Directors as well as organizations outside of SFS, including the Consortium of Aquatic Sciences Societies (CASS), the Society for the Advancement of Chicanos/Hispanics and Native Americans in the Sciences (SACNAS), and as a PI on an NSF-funded Research Experience for Undergraduates (REU) program. As a mentor, member, vice president, inside or outside of SFS, Checo spreads interest in aquatic science and "brings kindness, curiosity, and encouragement to all of his interactions." Checo works tirelessly to create space for freshwater scientists of all backgrounds and career stages. He is an exemplary early career leader.