Tuesday, October 10, 2017
One consequence of serving as SFS president is that I have become more attuned to the rich array of contributions made by individuals in our community. Rather than attempting to impart wisdom or inspiration directly (fat chance, Baxter!), I'll encourage you to find these in my accounts of others–I've always been a story-teller anyway, though an admittedly long-winded one! Accordingly, in the months leading up to our annual, "extended family reunion" in Detroit, I'll use this and other avenues to tell some selected stories, specifically highlighting an array of contributions I think are emblematic of the theme chosen for our meeting, "Navigating Boundaries in Freshwater Science."
BRIDGING HABITAT AND DISCIPLINARY BOUNDARIES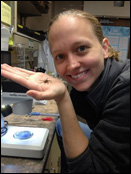 Kelley Fritz–lead author of FWS article, with a spidey subject.
So, you stick a piece of fishing line in the abdomen of a wolf spider (who comes up with this stuff? and where exactly did you stick it?!), you wait 24 hrs, and then voilà! –you have data for an article in the forthcoming issue of Freshwater Science! Well, ok, maybe it wasn't quite that "easy." The article, entitled "Subsidies of essential nutrients from aquatic environments correlate with immune function in terrestrial consumers," was contributed by Dr. Kelley Fritz and coauthors. Kelley, who conducted her Ph.D. research at Southern Illinois University (advised by past SFS president Matt Whiles), focused on resource subsidies across the aquatic-terrestrial boundaries of temporary ponds. For those who know my own interests, you may consider this a biased selection (ok, it is!). The authors discovered a fascinating pattern that required thinking across habitats and integrating disciplines. They compared fatty-acid profiles and immune function of wolf spiders in wetland and upland habitats.In wetlands, these spiders prey on emerging adult aquatic insects as well as amphibian metamorphs, from which they derive long-chain polyunsaturated fatty acids (LC-PUFAs) that are produced by some aquatic algae but not by vascular terrestrial plants, and that are essential to numerous aspects of animal health–including immunity. Fritz et al. assessed immune function by (yes, brace yourself!) inserting monofilament fibers into spiders' abdomens and measuring the degree of filament encapsulation–an established immunological method not typically found in the toolboxes of freshwater scientists! They observed that wetland spiders had higher tissue levels of aquatic-derived LC-PUFAs and elevated immune function compared to upland spiders. Such findings point freshwater scientists in new directions, armed with new questions and tools.
LINKING SCIENCE AND POLICY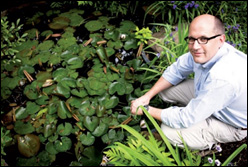 Mike Paul in his frog pose-navigator of the science-policy interface (aka, "the swamp").
For those who are long-time NABS-ters turned SFS-ers the name Mike Paul likely triggers an array of colorful, perhaps humorous associations with this character–and it also reminds us of an exceptional standard of service within our community. For instance, many of us witnessed and benefitted from the yeoman's job he, Jim Heffernan, and others did to help pull off our fantastic meeting in Raleigh last year. Here, I'd like to draw attention to his key role in navigating the connections (or the lack thereof!) between freshwater science and public policy. As chair of the SFS Science & Policy Committee, Mike puts to work his talent as a writer, mastery of freshwater science, and prodigious experience in the policy realm. It seems like every few weeks we read the news, exchange emails appended with the comment - "sigh," followed by another round of letter writing. Over the past months, Mike led SFS's letters in opposition to the Trump administration's proposed rule to rescind the 2015 definition of "Waters of the United States," which had been the result of years of work aimed at making sure the implementation of the Clean Water Act reflects the current, best available freshwater science; rescinding this rule would flout the scientific understanding generated by our community over the past 4 decades (follow this link to read SFS's letter to the US EPA). Mike's letter writing contributed to similar communications on the issue from the Consortium of Aquatic Science Societies (CASS), an umbrella organization that includes SFS and represents >20,000 scientists, and will serve me and others as talking points when we present on this issue to the US EPA and Corps of Engineers next month. By the time this year is over, Mike is going to need a stiff drink, and I'm just the guy to buy it for him! If you feel similarly, I encourage you to keep his glass more than half full next time you see him, and perhaps consider joining him in the vital role played by our Science and Policy Committee!
CROSSING CULTURAL BOUNDARIES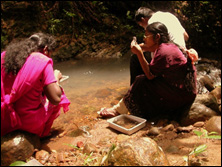 Participants in 2007 workshop on aquatic insects in India; SFS will help support a larger event this month.
When traveling in other countries I've found it fascinating to observe what other people wear when they show up for a trip to the field… No doubt those from other cultures find my cowboy hat and Hawaiian shirt an interesting choice! Well, based on some of the past images, I'd love to be there for the upcoming workshop on identification of aquatic insects and their use in biological monitoring to be held in Trivandrum, Kerala, India, in which some 30 students from 6 South Asian countries (including India, Nepal, Sri Lanka, Bangladesh, Bhutan, and Afghanistan) will participate. The event, supported in part by SFS, is being organized by Dr. Achuthan Nair, who leads the Indian chapter of the Asian Benthological Society. The lead instructor is John Morse, Professor Emeritus of Entomology at Clemson University, a member of the SFS International Coordination Committee, and recipient of the 2015 SFS Distinguished Service Award. John has led similar workshops, training freshwater scientists in India and 7 other Asian countries (China, Mongolia, Far East Russia, Thailand, Indonesia, Singapore, Iraq), which has led to the development of coordinated biological monitoring programs in those countries and establishment of 4 professional societies in freshwater biology (Aquatic Insect Branch of the Chinese Entomological Society, Mongolian Benthological Society, Aquatic Entomological Society of Thailand, and Asian Benthological Society). There is potential for similar benefits to arise from the upcoming workshop in India. Presently there is little knowledge or skill in biological monitoring of freshwaters in India or neighbouring countries, and no coordinated biological monitoring programs. This is in spite of the fact that the ecoregions in these countries contain some of the highest species richness of aquatic fauna and face some of the greatest threats to freshwater biodiversity in the world (http://atlas.freshwaterbiodiversity.eu/index.php/maps?map=3.1.1-river-th...). We hope that this workshop catalyzes freshwater science in the region, and that new members of the SFS community from these regions and cultures will join our ranks!
Colden Baxter