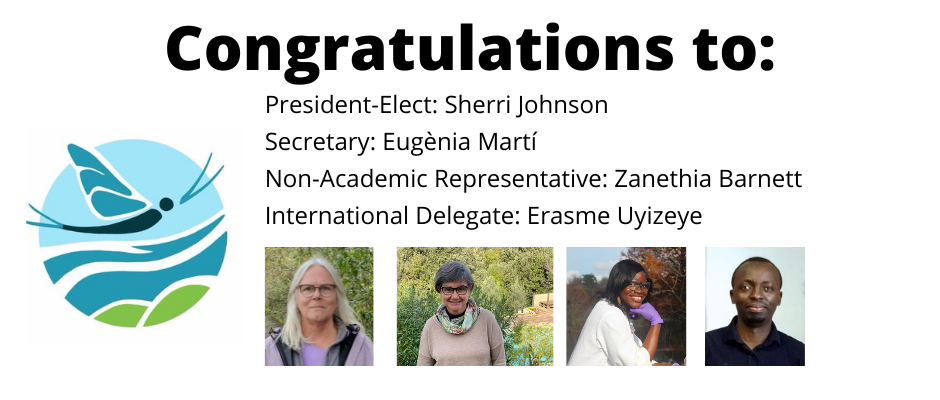 The Society for Freshwater Science (SFS) is honored to announce the results of its 2022 leadership elections. The Society is an international scientific organization whose purpose is to promote further understanding of freshwater ecosystems and ecosystems at the interface between aquatic and terrestrial habitats. The Society fosters the exchange of scientific information among the membership, and with other professional societies, educators, managers and policy makers.
Members of the SFS voted virtually, including students, general members, and emeritus members; the results are as follows:
President-Elect: Sherri Johnson, PhD. Johnson is a research ecologist with the U.S. Forest Service, Pacific Northwest Research Station, courtesy faculty with Oregon State University and served as lead scientist for HJ Andrews Experimental Forest from 2001-2021. She has been actively involved in the Society for decades. Johnson will serve as President-Elect for one year beginning next month until she assumes the office of President in May 2023. Johnson was also recently named a SFS Fellow, a high honor within the Society. 
Secretary: Eugènia Martí, PhD. Martí is a professor at the Centre d'Estudis Avançats de Blanes (CEAB), an institute of the Spanish National Research Council (CSIC) devoted to the study of aquatic ecosystems. Martí has served on many committees within the Society, including the editorial board, international committee, long-range planning committee and the Board of Trustees. 
Non-Academic Representative: Zanethia Barnett, PhD. Barnett is a research fisheries biologist with the USDA Forest Service. Barnett is a member of the Society's justice, equity, diversity, and inclusion task force, leading the council of underrepresented voices, where she works to break down barriers for underrepresented groups. Barnett also earned the Society's 2022 Hynes Award for New Investigators for her research on crayfish.  
International Delegate: Erasme Uyizeye, PhD. Uyizeye is a data analyst at Keene State College as well as a postdoctoral research fellow at the University of Rhode Island. Uyizeye is also among the pioneers of the Society's newly created Africa chapter, in which he currently serves as secretary.
The Society is excited to welcome these accomplished individuals into their new leadership roles, with terms set to commence upon the conclusion of the SFS annual meeting in May.
"What an honor to have been elected," said Johnson, who also noted the importance of cross-sector collaboration. "In my term, I plan to focus on strengthening the visibility of freshwater science as well as working to continue the wonderful functions of SFS.  We are increasingly confronting a range of complex issues and emerging challenges that would benefit from collaborative and innovative approaches. Communicating science to inform policy and management in a contentious political environment is vital, as is communicating effectively about changing climate and scientific uncertainty."
The Society's past president, Alonso Ramirez, chair of the elections and place committee, added "A very special thank you to all candidates. SFS is grateful to all candidates for their willingness to dedicate their time toward helping run and improve our society. This year we had a particularly diverse group and we hope this encourages everybody to consider getting more involved with SFS and perhaps running for one of these positions in the future."