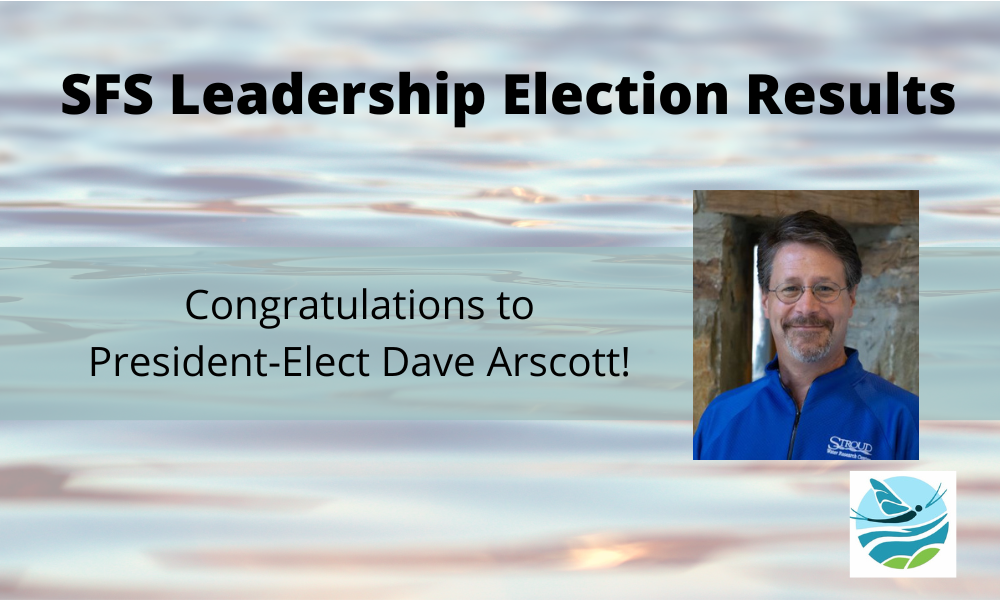 SOCIETY FOR FRESHWATER SCIENCE ANNOUNCES 2023 LEADERSHIP ELECTION RESULTS
May 30, 2023 — The Society for Freshwater Science (SFS) is honored to announce the results of its 2023 leadership elections. The Society is an international scientific organization whose purpose is to promote further understanding of freshwater ecosystems and ecosystems at the interface between aquatic and terrestrial habitats. The Society fosters the exchange of scientific information among the membership, and with other professional societies, educators, managers and policy makers.
Members of the SFS voted virtually, including students, general members, and emeritus members; and chose between two candidates for President, with David Arscott earning the most votes.
President-Elect: David Arscott. Arscott is a stream ecologist and currently serves as executive director of Stroud Water Research Center, a nonprofit that advances knowledge and stewardship of freshwater systems through global research, education, and watershed restoration. Arscott will serve as President-Elect for one year beginning next month until he assumes the office of President in June 2024 at the Society's annual meeting in Philadelphia. Arscott has been a SFS member since 1996.
The Society is excited to welcome Arscott into his new leadership role, with the term set to commence upon the conclusion of the SFS membership business meeting at the joint Freshwater Sciences 2023 meeting on June 5 in Brisbane, Australia.
"I'm honored and excited to serve SFS in this capacity", said Arscott. "The Society and all of its members have had a positive influence on my career trajectory and enthusiasm for freshwater ecosystems. I look forward to helping advance the Society's efforts to publish, promote and connect our freshwater science among our peers and society writ large. I hope to help strengthen our society's position as a resource to address today's largest environmental problems impacting freshwater ecosystems, such as, climate change, landscape change, and emerging contaminants."