Monday, February 29, 2016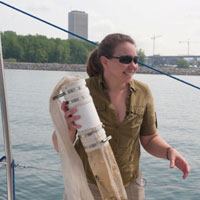 This month's podcast features Dr. Sherri Mason discussing her work on microplastics in freshwater ecosystems.

Dr. Mason is a Professor of Chemistry at the State University of New York Fredonia campus, where she is actively involved in researching the extent and effects of microplastic pollution in freshwaters. Her group has particularly focused on microplastics in the Great Lakes and their watershed. She discusses the effects of this growing concern and what we can do to stop it.
Related articles
Running time: 21 minutes
Host: Eric Moody
Published: 2/29/2016
Listen to the podcast
Listen on the SFS YouTube Channel
Read a full transcript of the episode here.
The views expressed in the podcast are those of the interviewee and do not necessarily reflect the consensus opinion of the general SFS membership.