Wednesday, November 30, 2016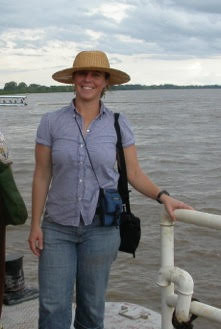 This month's podcast features Dr. Elizabeth Anderson discussing her work on tropical rivers and her approaches to river conservation.

Dr. Anderson is the Co-Director of the Tropical Conservation Institute at Florida International University. Her research explores the natural history of tropical freshwaters and aims to understand how these ecosystems are being transformed by the realities of today's world: river alterations, climate change, human population growth, and introduced species, among others. Her mission is to translate this science into methods, policies, and approaches that can be used to sustainably manage or conserve tropical freshwater ecosystems.
Related articles
Running time: 26 minutes
Host: Erin Larson
Published: 11/30/2016
Listen to the podcast
Listen on the SFS YouTube Channel
MP3 High Quality (8.11 Mb)
MP3 Low Quality (4.1 Mb)
Read a full transcript of the podcast here.
The views expressed in the podcast are those of the interviewee and do not necessarily reflect the consensus opinion of the general SFS membership.