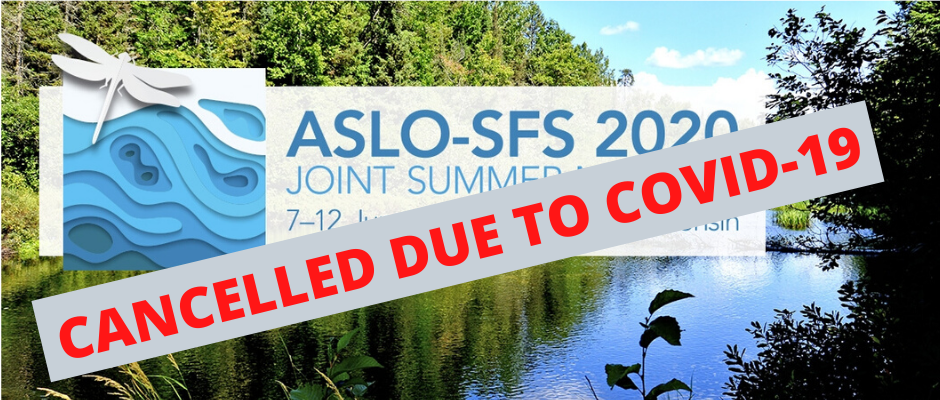 Dear Members:  

I am so sorry that the 2020 ASLO-SFS Meeting had to be cancelled, a decision that was made late yesterday afternoon.  I want to particularly thank the members who represented SFS on the Meeting Planning committee1 – they (and you!) had contributed much to what was going to be a great event.  

I am so impressed by the collaborative and resilient attitudes in what many have expressed online and on social media.  Freshwater science runs deep and around barriers and challenges.  I have complete confidence that we will find ways to sustain each other and our science.  I am very sorry for the losses and challenges that all are experiencing, some quite dire.  
I will be in touch with ways that we can stay connected remotely, engaging in a summer of 'science, not silence'.   I look forward to hearing your ideas for interactions and activities in lieu of our beloved annual meeting.  

Best wishes and thoughts to all of our members around the world for peace and good health in this difficult time. - Amy Rosemond

1ASLO-SFS Planning committee: Co-chairs Nancy Grimm* and Stephen Carpenter and members– Susanna Bernal*, Krista Capps*, Matt Church, Eleanor Jennings, Amy Marcarelli*, Rob  Mooney, Ted Ozersky, Michael  Paul*, Andrew Sanders*, Gesa Weyhenmeyer  (*SFS members)


Below is the message that was sent to meeting registrants from Mike Pace and me via conference organizers:
Dear Madison 2020 Meeting Registrants:
Given the rapidly escalating situation regarding COVID-19 and the state of Wisconsin's moratorium on gatherings of 10 or more people, our societies have made the difficult decision to cancel the ASLO-SFS Meeting scheduled for June. While we have been looking forward to this event for years, our primary concern is the health and safety of our members. We deeply regret having to cancel the meeting but look forward to bringing our members together again in 2022 at the Joint Aquatic Sciences Meeting.
We appreciate your enthusiasm for aquatic science: we had received over 1500 abstracts for the meeting.  We also appreciate the work of many in planning the meeting, including the Program Committee, led by co-chairs Stephen Carpenter and Nancy Grimm. 
As already indicated prior to registration, full refunds for all event and abstract fees will be issued automatically. There is no need to request a refund. Please be patient as the process may take several weeks.
Sincerely, Mike Pace, ASLO President, and Amy Rosemond, SFS President