Thursday, February 1, 2018
The New Year always brings thoughts of transformation— aspirations for change that are often mixed with poignant appreciation for the way things were.  I'd like to comment on just a few of these for SFS.  This year SFS marked a major change by hiring for the first time an executive director, Andy Leidolf (see In the Drift interview).  We also developed plans for our first non-North America meeting, a cooperative congress to be held this summer in Quito, Ecuador (more on this below).  In November, we received news that Pam Silver, our long-time, dedicated editor-in-chief for Freshwater Science, was resigning in order to meet new leadership commitments to her university.  As Pam put it, she had been giving the journal "all of her heart and most of her time," steering it through major transitions so that it has emerged stronger than ever.  It is fitting that Pam is this year's recipient of the Society's Distinguished Service Award, while we are moving forward with plans to search for a new editor.  On a more symbolic front, in fall 2017 we adopted a new logo for SFS, retiring the red stonefly icon that has served as our emblem since the inception of the Society.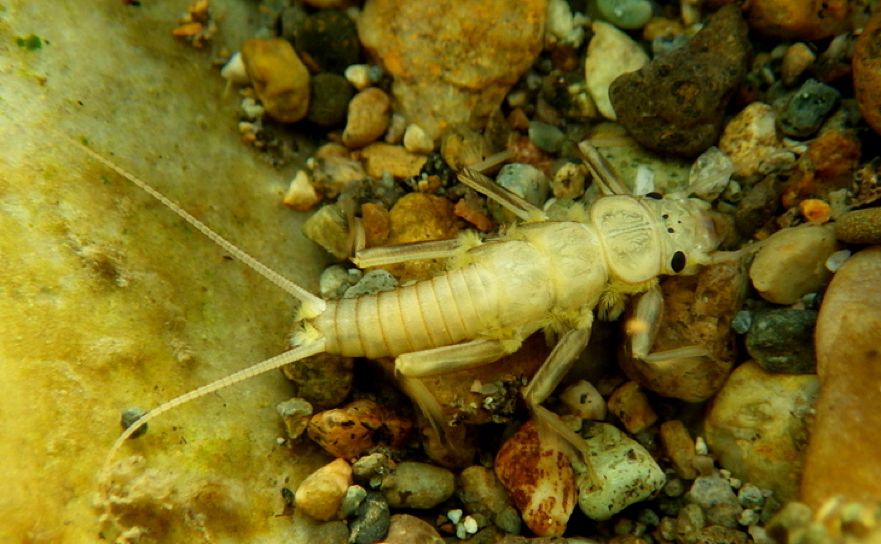 Apparently, a "new Order has arisen," as a mayfly icon is part of the new logo—yet many of us have a soft spot for stoneflies, and I predict "vintage" status for paraphernalia bearing the old logo!  Finally, on a sad note, November marked the passing of Andy Sheldon, a cherished member of our community, and a scientist deep in the ways of stoneflies (see In the Drift obituary by Deb Finn). I took my first stream ecology class from Andy at the University of Montana, and always enjoyed catching up with him at the annual meetings.  I thought of him when I recently took the underwater photo above (while snorkeling in the Salmon River basin, Idaho) of a "ghost" Calineuria, translucent because of its having just molted from one instar stage to another.  Now, at the turning of the year, I find this an appropriate image on which to ponder transformation more broadly.  Though we grow into something new, the marks and form of who we were—defined by the work that has been done and the people who lived that work—are not only retained, they shape who we can become.
With the unfinished work in mind, I'll now turn to relating a few selected stories (as I did for the fall President's Environment) that highlight efforts that are emblematic of the theme for our approaching annual meeting, "Navigating Boundaries in Freshwater Science."
Crossing Cultural Boundaries – Making SFS More International
Tis' the season for presidents to answer regarding their campaign promises!  One thing I promised was that this year we would be crossing boundaries to make SFS more of an international community.  When we changed our name this was one of our intentions—to reflect the extent to which our community had expanded beyond North America, and to further this growth.  One long-term aim has been to hold a non-North American SFS meeting.  I am excited to report that this long-term goal is being realized in the short-term!  This coming July, SFS is a major collaborator in the Congreso AQUATROP to be held in Quito, Ecuador, whose theme is "Tropical Aquatic Ecosystems in the Anthropocene"  (see http://riostropicales2018.org/ ).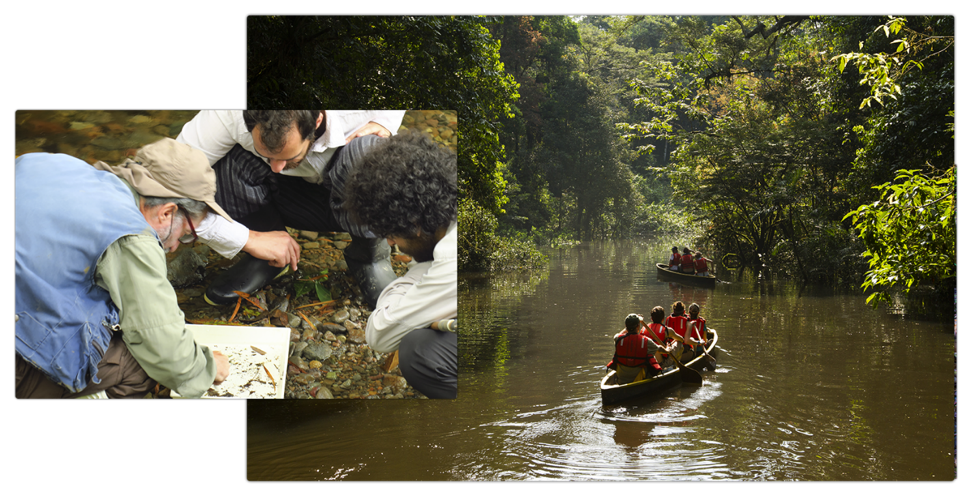 The meeting is being organized and hosted by the Macrolatinos group and the Latin America Chapter of SFS, the Asociación Ecuatoriana de Limnología, and the Sociedad(e) de Odonatología Latinoamericana.  SFS is providing major funding support for AQUATROP, especially to fund travel to attend the meeting for scientists and students from less affluent universities or nations. Organizing committee members include Andrea Encalada, Blanca Ríos-Touma, and Maja Celinscak from Ecuador, as well as Alonso Ramírez from Puerto Rico and Monika Springer from Costa Rica. Andrea, Blanca and Alonso are longtime contributors to SFS—indeed they serve on our International Coordination Committee.  We encourage SFS members from around the world to consider attending this meeting (note that abstracts are due February 28th), and to get involved if you have ideas about how to make SFS more international!
Bridging Science and the Humanities
There is so much to anticipate about our upcoming meeting in Detroit, but I am especially excited about one of the special sessions, entitled "At the Confluence of Freshwater Science and the Humanities," which will highlight collaborations between colleagues in aquatic sciences and the humanities as they explore science in creative ways and engage diverse audiences through writing, visual arts, videography, theater, and music.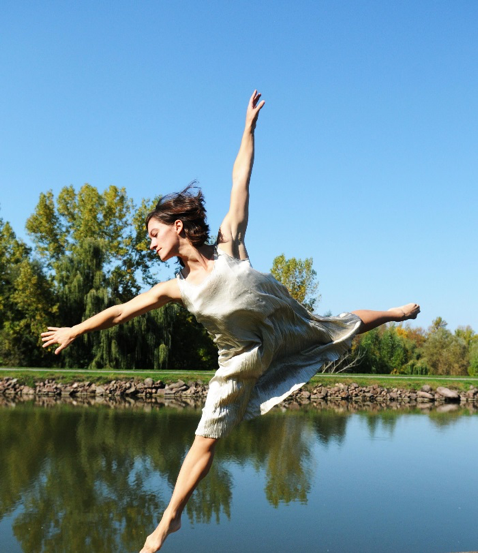 The session is being organized by Judy Li, one of my own mentors and a recipient of the SFS Distinguished Service Award, in collaboration with Ann Rosenthal, an ecoartist who does riparian art projects with inner-city kids (https://atrart.net/about/).  As some of you know, Judy is a natural to lead such a session, as she is not only an accomplished freshwater ecologist, but author of a series of books for children, including "Ellie's Log: Exploring the Forest Where the Great Tree Fell" and "Ricky's Atlas, Mapping a Land on Fire," and coeditor with Michael Barbour of "Wading for Bugs: Exploring Streams with the Experts."  Just as a sampler, the session promises to include presentation from a collaboration involving SFS's Al Steinman and dance artist Hannah Seidel (pictured above) of Grand Valley State University, Michigan) and concert pianist Sookkyung Cho (http://www.sookkyungcho.com/), as well as imagery and videography from Freshwaters Illustrated (http://www.freshwatersillustrated.org/) presented by director Jeremy Monroe.  Incidentally, Jeremy will be this year's recipient the SFS Environmental Stewardship Award, for his extraordinary role in promoting appreciation for and understanding of freshwater organisms and ecosystems through photo, video, and film.  Creative efforts like those being communicated through this special session are a key to navigating the boundaries between freshwater science and society—we look forward to the insight and inspiration afforded by this opportunity!
Connecting Scientific Societies to Maintain Linkages between Science and Policy
In the U.S., 2017 posed challenges to maintaining connections between freshwater science and policy that were unprecedented in my lifetime.  The Trump administration has been openly hostile toward science of the environment; overt in its efforts to roll back federal policies protecting freshwater and undermine the abilities of federal agencies responsible for conducting freshwater science and implementing science-based policy.  SFS leaders have met these challenges with action (see, for example, my highlight of Mike Paul in the Fall 2017 President's Environment), but the situation has also demanded that the broader freshwater scientific community speak with a louder, more united voice.  This is one function of the Consortium of Aquatic Scientific Societies (CASS, see https://aquaticsocieties.org/ ), in which SFS participates.  Through this consortium, we participate in science-based discussions on public policy issues that affect freshwater resources, and when we issue statements through CASS we do so as part of a collective membership from a dozen scientific societies that totals more than 20,000 individuals.  Throughout this past year, SFS has been a signatory to numerous letters from CASS to the U.S. Congress, President Trump, and his appointed leaders of the Environmental Protection Agency and Army Corps of Engineers.  In 2017 we issued a series of science-based statements (and I spoke on behalf of SFS and CASS at a "listening session" with these agencies' leaders) in opposition to the Trump Administration's proposal to effectively suspend the 2015 Clean Water Rule and roll back without scientific review its definition of "Waters of the United States," a proposal that would remove protections for freshwaters that had been instituted based upon overwhelming support by peer-reviewed science.  Through CASS we also condemned the actions of the EPA leadership when it prohibited EPA scientists from presenting their research at "The State of Narragansett Bay and Its Watershed" workshop in Providence, Rhode Island, in October.  This is an administration blatantly censoring science—for instance, they recently ordered that the phrase "science-based" could not be used by officials of several federal agencies in documents for the 2018 budget.  In the coming year, it is clear we will need to continue to link arms across scientific societies to defend "science-based" (there, I've used the phrase five times in one paragraph!) policy for freshwater resources.