Thursday, October 25, 2018

​
In the Drift: Issue 32, Fall 2018
In this issue
Dear Society for Freshwater Science,
Your fall issue of the SFS newsletter is here! It's packed full of behind-the-scenes stories, publishing advice, and important society information.
Enjoy,
Ross Vander Vorste, editor. VanderVorste.Ross@gmail.com.
FPOM
Short SFS notes and quick links collected from "the drift"
A new Making Waves podcast with Jim Elser, director of the University of Montana Flathead Lake Biological Station.
Stay Fresh! is your source for new papers in the field of freshwater sciences.

SFS 2019 Salt Lake City meeting - abstract submission opens November 12, 2018
---
Article Spotlight
By Ross Vander Vorste
Curtis et al. (2018), Issue 37(3):618--630


​
Since its publication in 1980, the River Continuum Concept (RCC) has shaped the way freshwater scientists think about rivers. This keystone paper describing longitudinal changes in the physical, chemical, and biological characteristics of rivers has been cited over 800 times since 2017. The RCC paper is now nearing 10k in total citations. Despite continued efforts to refine the RCC, some important aspects of this concept remain untested. In their recent article in Freshwater Science, Will Curtis, Amy Gebhard, and Josh Perkin explored three tenets of the RCC by going inside the stomachs of a tiny insectivorous fish.


Will Curtis, JuJu Wellemeyer, and Amy Gebhard backpack electrofishing for banded sculpin (left). A camouflaged banded sculpin rests on the stream bottom (right). Photo credits: Josh Perkin (l) Amy Gebhard (r).
We spoke about their study of the benthic banded sculpin Cottus carolinae recently on Skype. This ubiquitous fish feeds mainly on invertebrates in first–seventh order streams in the southeastern USA. Will and crew sampled the sculpin each month for a year during rain or shine at four streams (2–5 order) in north-central Tennessee's Cumberland River basin.
Will, who was an undergraduate at Tennessee Tech University, describes the day he forgot his waders and fashioned some boots from 5-gallon buckets. Conditions in the field were especially tough during the winter months when the crew's seine nets froze in the frigid waters.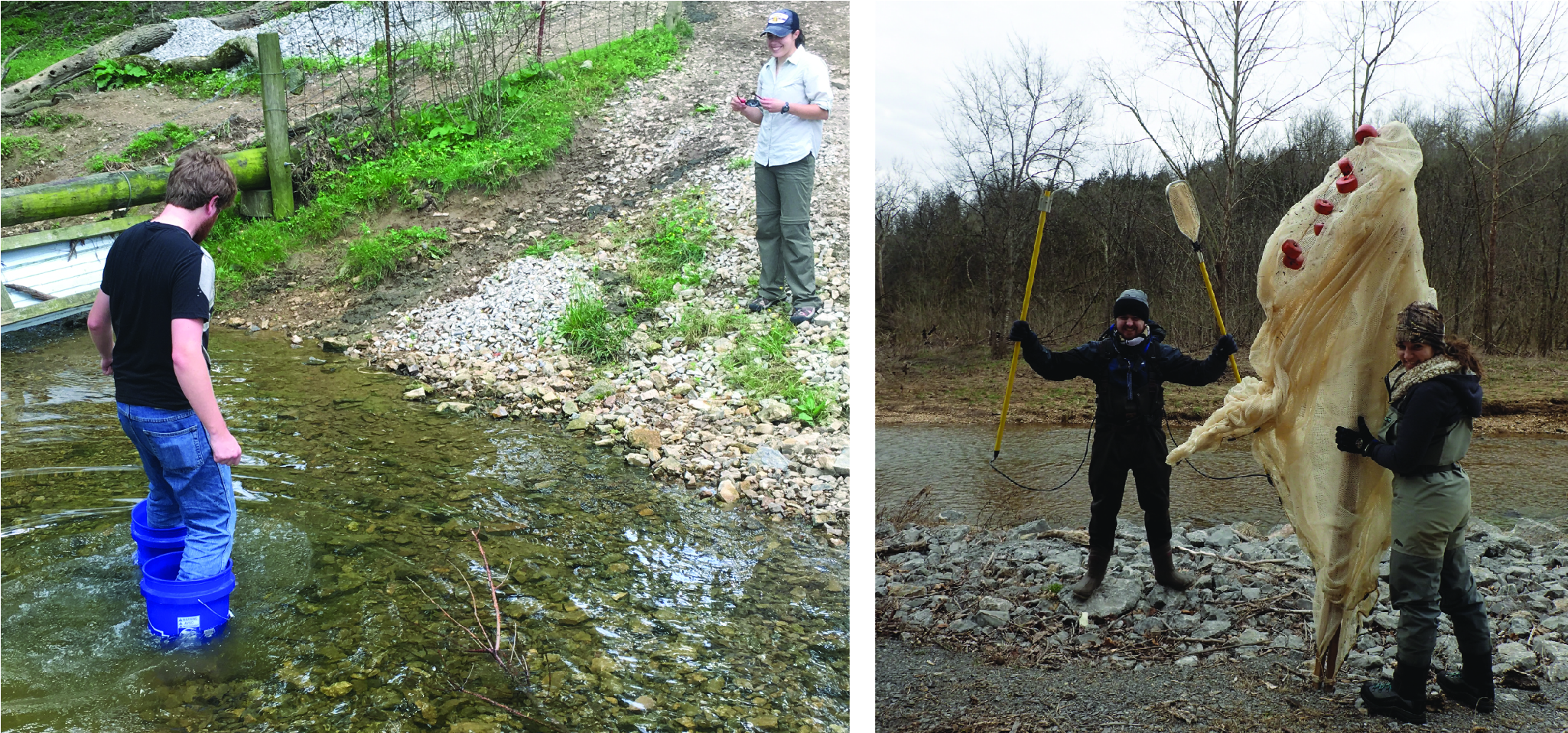 Will Curtis occasionally chooses 5-gallon buckets instead of traditional waders for stream research (left). Will and Juju displaying a frozen seine net during a particularly cold winter day in the field (right). Photo credits: Josh Perkin (l) Amy Gebhard (r).
Amy, since graduated with a Master's from Tennessee Tech, and her advisor Josh told me that they wondered how to incorporate sculpin diet information into their work on the fish's life history. Amy says "Will picked it up and ran with it. We have been smiling ever since" as she describes how Will used his skills in taxonomy to take over this ambitious project as an undergraduate.
While hovering over a microscope sorting through the gut contents of over 500 banded sculpin, Will started wondering if their diet change as fish feed in small 2nd-order streams to larger 5th-order streams. He was taking aquatic entomology at the time and learning about the RCC. Will wanted to see if the longitudinal organization of invertebrate feeding groups, taxonomic diversity, and temporal changes in invertebrate composition predicted according to the RCC was also apparent in banded sculpin diets.
When describing the diet of banded sculpin Josh reminisces about the day he and the field crew were standing streamside watching a sculpin as it engulfed an innocent stoneroller swimming past. The field crew absolutely erupted with amazement and laughter.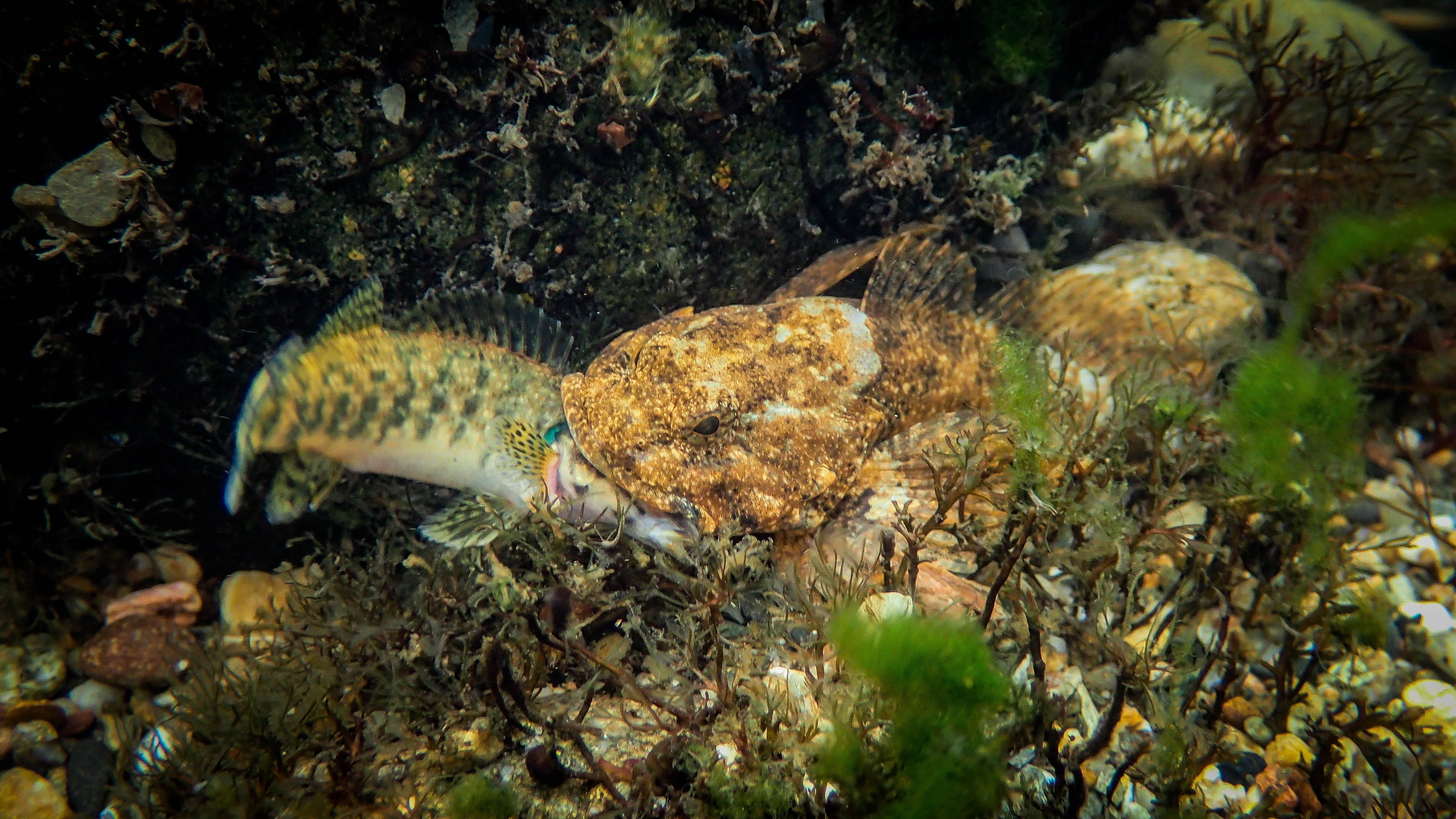 Banded sculpin feeding on a passing fish. Photo credit: Eric Malone.
Despite feeding on the occasional fish or salamander, Will describes how banded sculpin fed on invertebrates according to his RCC-based predictions. He found sculpin feeding on a higher proportion of shredding and lower proportion of collector invertebrates at the upstream sites compared to downstream sites. Several other lines of evidence supported the usefulness of the RCC in predicting this invertebrate predator's feeding patterns.
For Will, a curiosity for the finer details of stream ecology and love for fishing were what drove him to pursue undergraduate-level research. His efforts to complete a study that incorporated a 38-year old conceptual framework and publish his results are truly impressive. Josh Perkin, now assistant professor in the Texas A&M Wildlife Fisheries & Science Department, admires the dedication and productivity of both Will and Amy.
Will, Amy, and Josh are happy to have shown proof of concept supporting the RCC in their article. However, they remain curious if diet contents of other fish, such as top predator trout, will follow the same patterns as banded sculpin. In the future, Josh hopes that a generalizable pattern in prey consumption by fish in southeastern streams could be found to better understand fish distribution along the river continuum. All this would require looking through hundreds more fish stomachs and, for now, Will is just happy to return home every day not smelling of preserved fish.

Email your recommendations for the FWS Article Spotlight to VanderVorste.Ross@gmail.com
---
Ecological Evidence Exchange (EcoEvidEx)
By Kate Schofield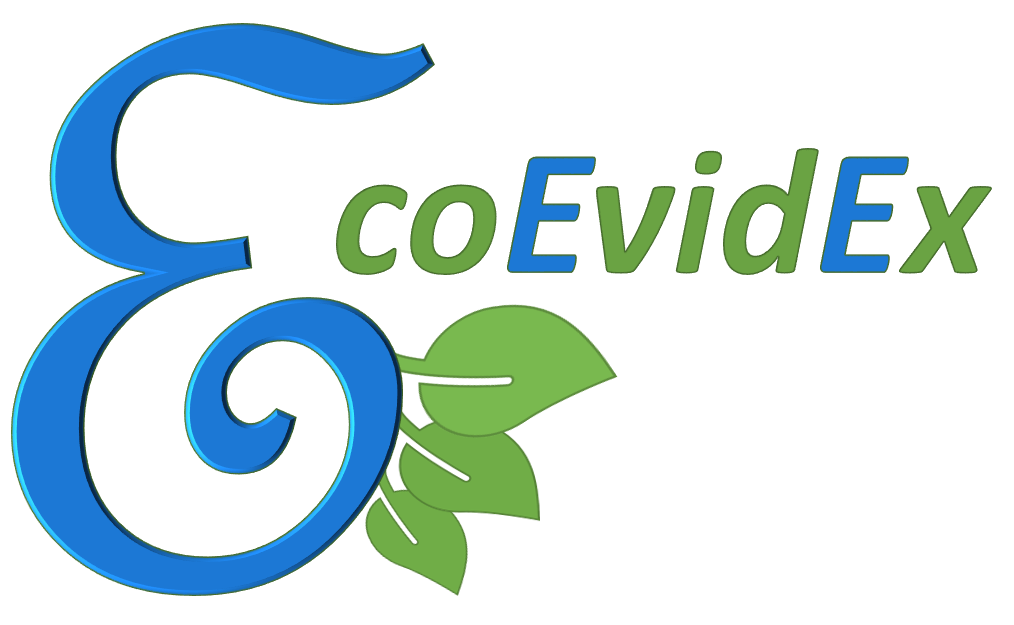 Extend the reach of your research results by entering them into EcoEvidEx, an initiative designed to make scientific research more impactful by making it more available, in terms of both timeliness and accessibility, to environmental decision-makers. The term "evidence-based management" highlights the idea that environmental management decisions should be based on the best available science. However, environmental decision-makers often are required to make decisions quickly, leaving little time to thoroughly consider the entire body of evidence relevant to a particular question or decision. The goal of EcoEvidEx is to make this process of evidence evaluation easier in two ways: (1) by translating research results into concise summaries of the key relationships those results provide evidence for or against (i.e., evidence metadata); and (2) by making this evidence metadata publicly accessible, so it can be applied and further built upon in other management contexts.
By contributing to EcoEvidEx, you increase the chances that your work will be used—and used accurately, based on your actual research results—in evidence-based management.
How will EcoEvidEx work?
There are two key phases to the EcoEvidEx rollout:
During the initial test period (currently underway), we will be testing the evidence entry process. Enter research results from one (or more) of your papers into the EcoEvidEx form and provide us feedback on the general process and/or specific fields of information collected. Was the process straightforward and easy to follow? Are relevant types of summary information collected? Do you have suggestions for improvements?
After we refine the evidence entry process based on your feedback, there will be a trial period during which the evidence entry process will be linked to acceptance of papers for publication in Freshwater Science. Look for this trial period to begin in 2019.
Ultimately, research results entered into EcoEvidEx will be stored in publicly accessible evidence databases (e.g., Eco Evidence, CADLink) that environmental scientists, managers, and decision-makers can use to quickly identify evidence directly relevant to their questions and information needs. Evidence collected during the initial test period will not automatically be entered into these databases. The initial test period is intended to test the evidence entry process, and entries will be stored in a test spreadsheet. We are currently working on a more seamless connection between evidence entry and storage in evidence databases for the trial period.
Want to learn more? Additional information on the EcoEvidEx initiative can be found on the EcoEvidEx home page and in an EcoEvidEx editorial in Freshwater Science. If you're interested in learning more or becoming involved in these efforts, please contact us at EcoEvidEx@freshwater-science.org.
---
Society Awards Nominations
By Amy Rosemond
Please add to your calendar now and forever more! Fall is now the time to nominate outstanding members of our society for their contributions to freshwater science! These awards include the Award of Excellence (AOE), the Distinguished Service Award, the Environmental Stewardship Award, SFS Fellows, and the Hynes Award for new investigators. The Board of Directors recently approved changing solicitation from spring to fall to follow our meeting cycle.
The 2019 Award winners have already been decided – but you will need to wait until January to hear more about these outstanding members and their contributions! The AOE and Hynes Award winners will additionally be addressing the Society at our 2019 meeting in Salt Lake City.
But wait! The SFS Fellows are soliciting nominations for the selection of two new SFS Fellows in our new awards cycle. Nominations for these are due November 15, with decisions made in mid December. Dr. Steve Hamilton is currently the point of contact for the SFS Fellows nominations (hamilton@msu.edu). The nomination form can be found here.
I hope you are having a wonderful and successful fall season – and that you are motivated to nominate SFS members for their inspiring work for these awards. You can do this now and in the future – at this time of year!
---
SFS Family Tree
A new network analysis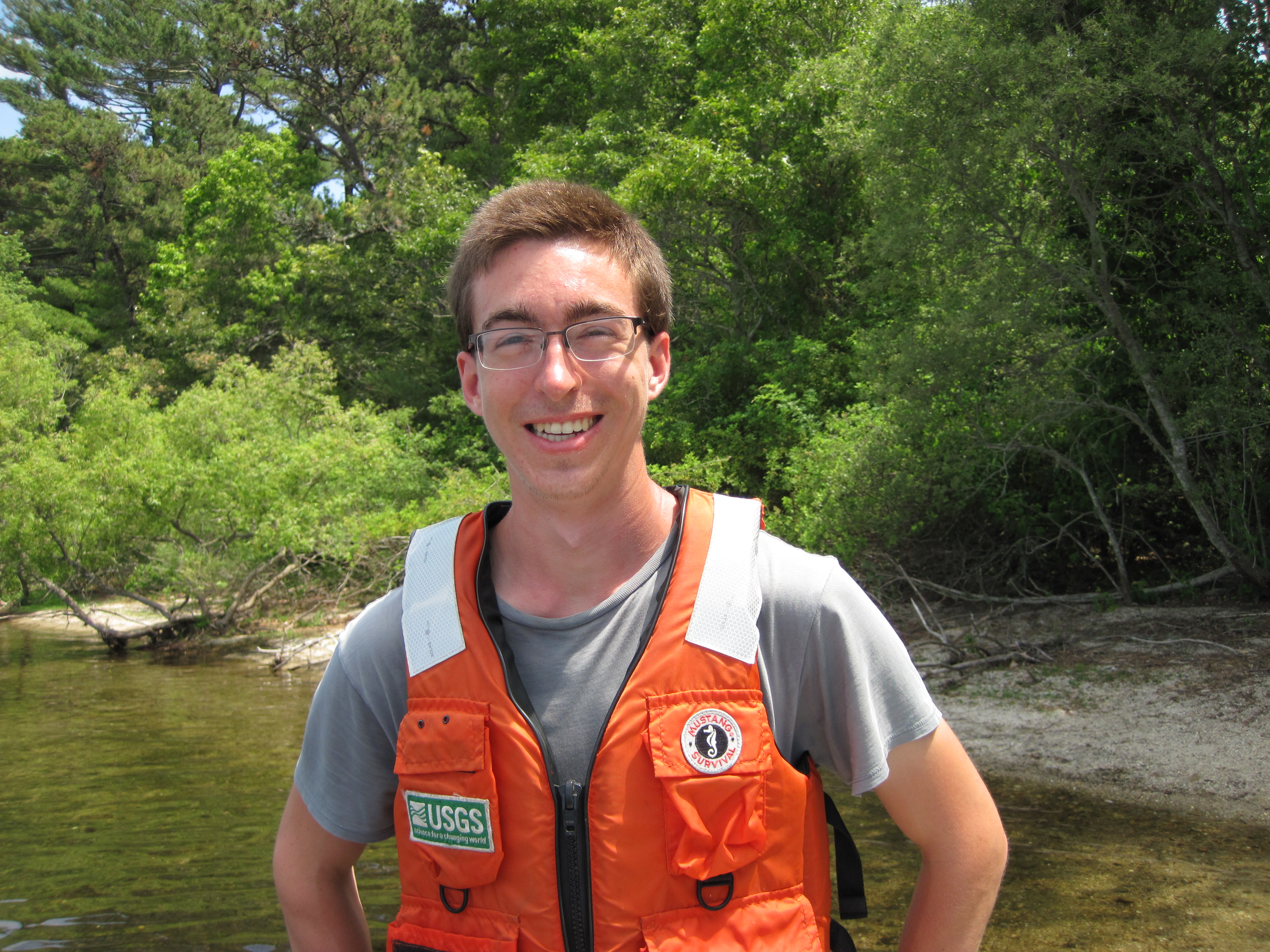 ​
By Tyler Hampton
I have received a tremendous outpouring of support in the compilation of the SFS Family Tree. I want to acknowledge the help of many other students in the early development of the polls, and to a previous generation of scientists that contributed data to academictree.org. One of the main distinctions of the Tree is that rather than the image of a tree, from trunk to branches, I represent it as a network which emphasizes the lateral connections between society members. It looks more like a web of filamentous algae (Fig.1). By focusing on the connections in the latest generations of society members, I've also collected data for 809 individuals that are either students or in their early-career, which I plan to contribute to academictree.org.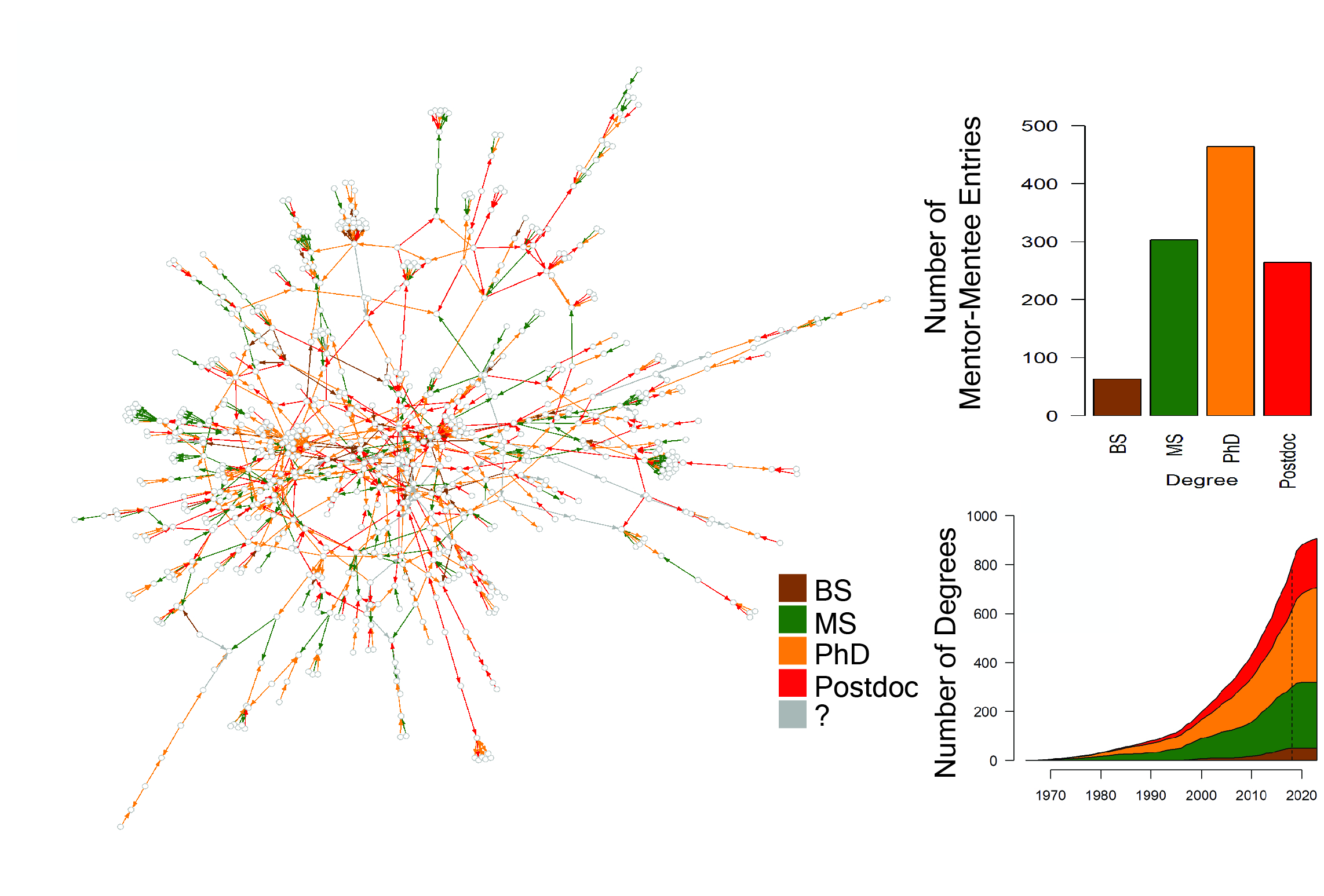 Figure 1. A network of 411 SFS members contributed to the Google Survey, from May 10 to August 3, 2018. This produced data for 1,017 unique individuals with 1,489 distinct degrees or mentor-mentee connections (left). Of these connections, 91% were complete entries, meaning data was available for the mentee, mentor, degree, institution, and year. Number of mentor-mentee connections within each degree or postdoc group (top right). Distribution of degrees earned by SFS members over time indicating high number of student and early-career members (bottom right).
I also looked at the distribution of individuals within academic generations (Fig. 2). Generation 1 are current students or individuals who have not yet mentored their own students, generation 2 are individuals who have mentored students, and generation 3 are individuals whose students have gone on to mentor another generation of students, and so on.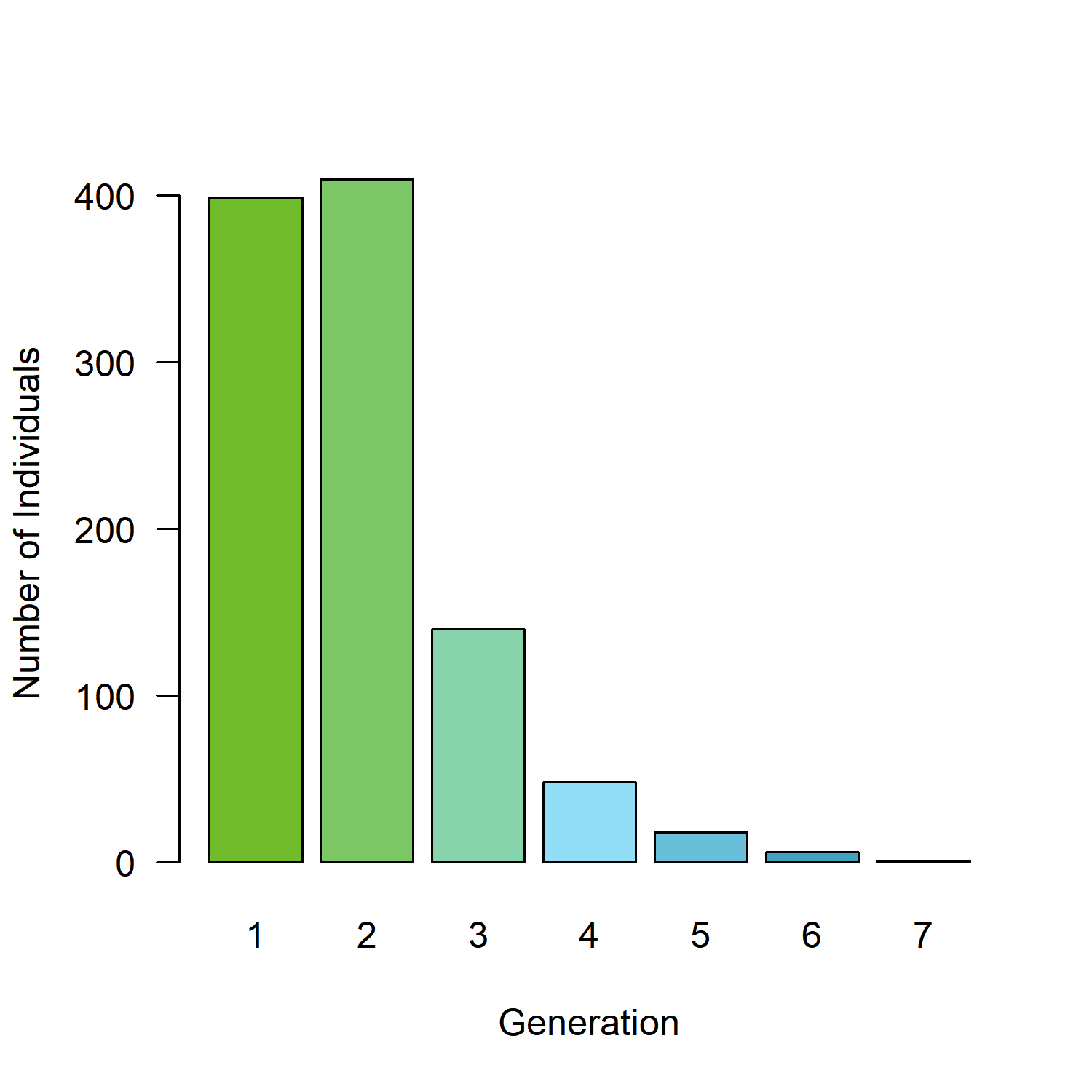 ​
Figure 2. Distribution of individuals within academic generations
Survey respondents were also asked about their interests in three categories natural systems, research topics, and study organisms (Fig. 3). Streams and lakes were the most common responses, with strong connections between these, wetlands, and urban systems. Research interests were strongly focused in ecosystem ecology, community ecology, management and conversation, and hydrology. In these systems, research was focused on fish and insects, as well as algae and bacteria.

​
Figure 3. SFS member interests in natural systems, research topics, and study organisms.
I'm excited to continue analysis of this dataset and provide the SFS community with more interesting insights! The SFS Family Tree is currently housed at Michigan State University and can be accessed at http://bit.ly/SFSfamilytree. Participation is still open, and accessible via the link!

Special thanks to Stephen Plont, Joe Lee-Cullin, Arial Shogren, Ross Vander Vorste, Katherine O'Reilly, and Anna Boegehold.
---
New Freshwater Science Endowment Award
By Irwin Polls
Over the years, many aquatic scientists have had difficulty funding publication of their research in peer-reviewed scientific journals. The Endowed Publication Fund for Freshwater Science (EPF) was established in May 2016 as a source of funding dedicated to providing financial support to authors who submit manuscripts for publication in Freshwater Science. The principal in the journal endowment investment fund is structured such that it remains intact while the investment income from the fund is available for awards.
A NEW journal endowment award will become available to authors on January 1, 2019. Funding awards will be available for improving the quality of scientific papers submitted or published in Freshwater Science, including but not limited to editorial assistance to authors whose primary language is not English, page charges, and color figures.
An application for a journal endowment award will be available online at the SFS website. Authors must submit an EPF award application with a manuscript considered for publication in Freshwater Science. Authors eligible for EPF awards include Society for Freshwater Science members and non-members. Undergraduates are also eligible for EPF awards.
Funds will be awarded on the basis of exacting criteria established by the Journal Endowment Committee (JEC). EPF award applications will be submitted by authors during a 3-month period (January-March; April-June; July-September; and October-December). Applications submitted during a 3-month period will be reviewed by members of the JEC in the month following the application period. Three (3) awards up to $800 will be available to authors during each application period for a total of twelve (12) $800 awards annually. Endowed funds not awarded during a 3-month period will be available to authors submitting papers in subsequent application periods. Except for the editorial manuscript assistance award, all other EPF awards will be distributed following acceptance of a manuscript for publication in Freshwater Science.

Members of the Freshwater Science Editorial Board strongly endorse and urge authors submitting manuscripts for publication in Freshwater Science to apply for journal endowment awards.
---

​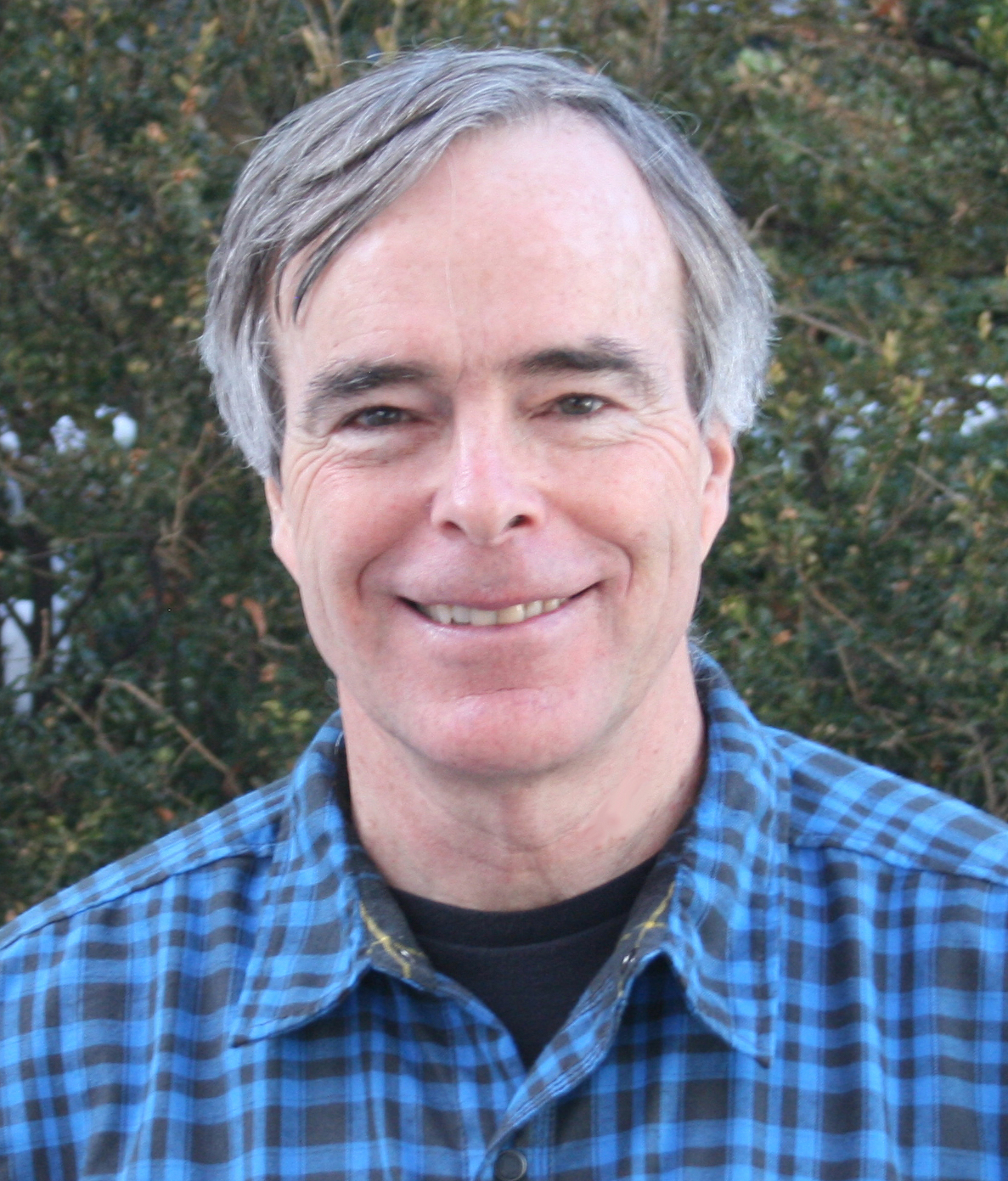 ​
Getting published in Freshwater Science (or the value of writing well):
Most of you generally know how the science publishing game works: conduct study -> write paper -> submit paper -> journal decides to publish your paper (or not). The reality is that a relatively large percent of authors are informed that the journal is declining (nice word for rejecting) their submission. For Freshwater Science that percent is about 50% and growing.
There are three main reasons papers are rejected: + Topic is outside of the scope of the journal. + Study does not advance the state-of-the-science much. + Writing is so rough the science cannot be evaluated.
The message here is that authors should make sure their study is a good fit with the journal, clearly show how their study is novel and advances the science, and write a paper that is easy to read and understand.
My goal as Editor is to continue to grow the quality of papers the journal publishes. That means rejection rates are likely to increase. What should you do to minimize the chance of rejection? Ultimately, the quality of your science will most strongly affect your chances of being published, but writing well about your science will double (at least) your chances. Good writing cannot substitute for weak science, but it is a shame that papers based on sound science get rejected because editors and reviewers cannot easily comprehend what was done. Even if you luck out and have a roughly written paper accepted, such papers take extra time to edit, which can delay publication. Moreover, a published paper that is difficult to read will almost certainly be cited less frequently than a well written, easily read paper. So, it will always be in your best interest to write as clearly as possible.
Failure to create logical flow throughout a document may be the single biggest issue I encounter. Logical flow means more than just following the IMRD (Introduction, Methods, Results, Discussion) model. It means linking those sections via the ideas that motivated the study. Some have suggested using the 'hourglass' model when structuring a manuscript. Brian McGill gives a good example of this model along with other useful tips in his blog. The essential idea is to first establish the broad ideas/theory that motivated the study and informed its research questions (Introduction), then provide details regarding how the research questions were answered (Methods and Results), and finally use the Discussion to consider the implications of the results for the broad ideas that motivated the study. McGill calls this model 'paper writing 101', but I see three general failings in following it. First, authors often fail to establish a clear set of objectives that clearly link to a knowledge gap. Second, authors jump into the details of data collection (what data were collected?) without telling readers about the research design (how will the question be answered?). Third, authors often adopt an 'I found this versus Smith found that' approach in the Discussion rather than synthesizing how their results inform the motivating questions and theory. Many authors also tend to excessively repeat results in the Discussion rather than focusing on their interpretation and implications.
Writing coherent paragraphs is also an elusive challenge for some authors. Three common problems are failure to write a general topic sentence that telegraphs for the reader what is to follow, failure to provide transitions between details presented in the paragraph, and failure to provide a concluding sentence that transitions to the next paragraph. I recommend visiting this website for an excellent example of how to write effective paragraphs.
Ultimately, all effective writing depends on producing easily understood sentences. There are many ways we can compromise the clarity and readability of individual sentences, but three especially common ways are to write in passive voice, write excessively long and complex sentences, and use weak verbs and nominalizations. Consider these two sentences: (1) "The collection of samples occurred at the river, and the DNA extractions were conducted in the lab." (2) "We collected samples at the river and later extracted DNA from them in the lab". Which is better? Also, have you forgotten all that grammar you learned in high school and college? Don't guess. Ask Grammar Girl instead.
For all practical purposes, being a scientist means being a professional writer. It is therefore in our best professional interests to write well. Before submitting that manuscript, get critical feedback from colleagues who write well and revise accordingly. If you struggle with writing, invest in learning to write better. There are many self help resources out there, and I would be happy to share my suggestions on books to invest in. Otherwise, Duke University provides a good online resource that I have found to be very helpful.
---
SFS on Flickr
By David Manning

As a society, we are continuing to cultivate our social media presence to better serve our members, and provide snippets of useful and timely information to the public. Beyond some of the more visible social media outlets, like Twitter, we are also beginning to ramp up our presence through outlets like Flickr. Flickr is a portal for sharing photos among users that can be curated and organized into groups with shared themes or interests.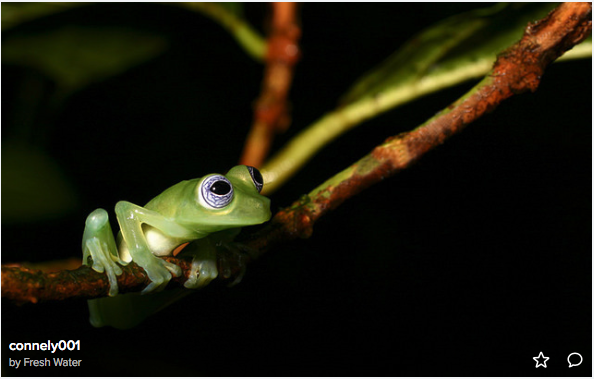 Our Flickr page is in the early stages; for example, our largest group (Freshwater Invertebrates, of course) has eight contributors, and about 51 photos shared so far. We also have created groups for algae, aquatic vertebrates, scenic freshwaters, and SFS meetings. The groups can be great places for discussions to pop up – one last year (as yet unanswered) was started about Tipulid parasites.
We are encouraging anyone who is interested to join us and share their freshwater photos, with the aim to provide and promote content that shows freshwater science in action. 
Flickr is also a great way to provide materials that could be used for educational purposes, as contributors can share photos and set guidelines for how they can be used by others (e.g., Creative Commons licenses).  
Follow us:

​
---
2018 Annual Meeting Recap
Detroit, Michigan
May 20--24, 2018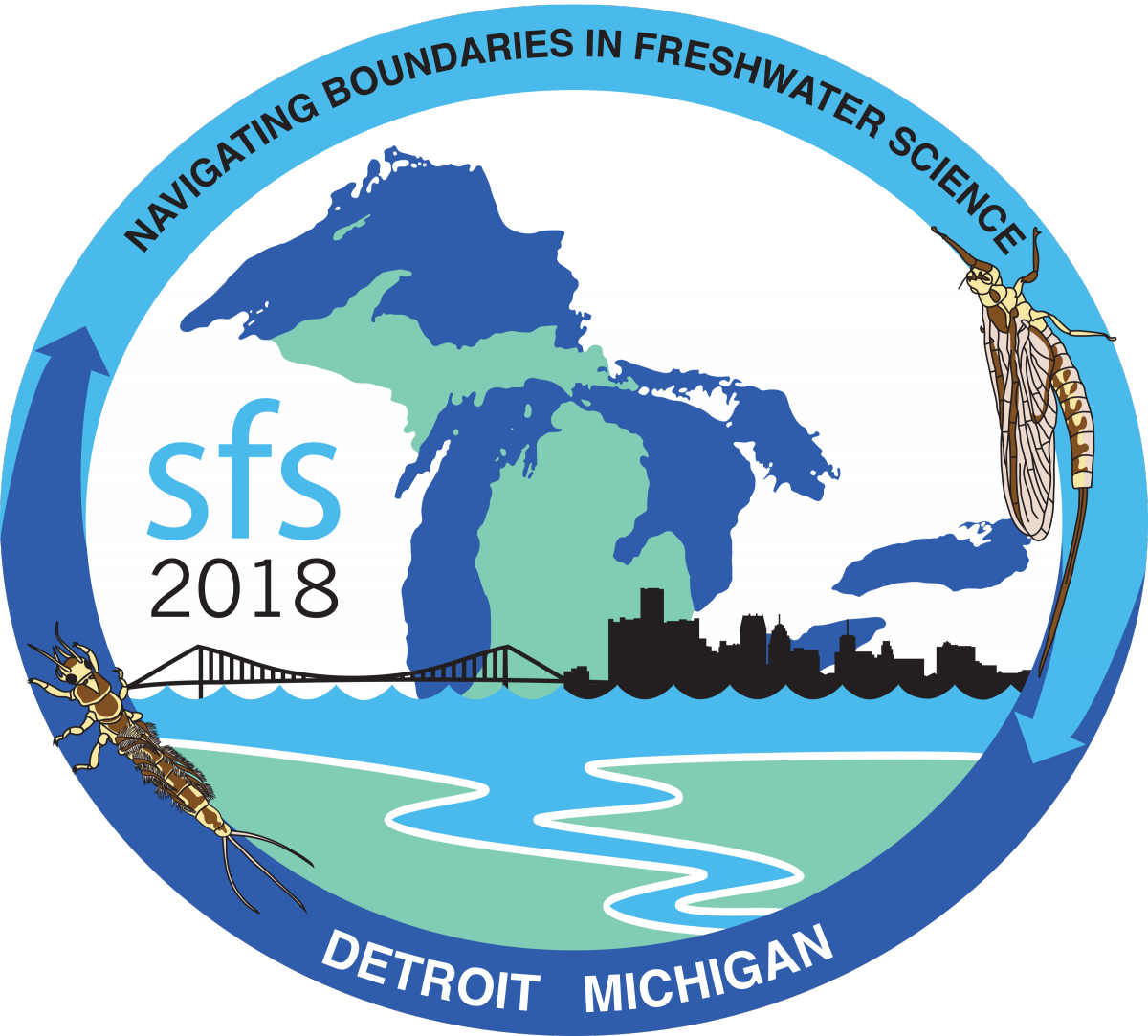 ​
By the numbers:
1028 attendees (current members and new members)
424 student members
147 early career members
11 INSTARS
29 countries represented (Australia, Brazil, Canada, China, Chile, Columbia, Croatia, Denmark, Ecuador, France, Germany, Iceland, Italy, Japan, Kenya, Mexico, Netherlands, New Zealand, Nigeria, Peru, Puerto Rico, Russia, South Africa, Spain, Sweden, Switzerland, Taiwan, United Kingdom, and United States)
878 presentations (623 oral, 255 poster)
6 workshops with 139 participants
16 different exhibitors
108 registered Fun Runners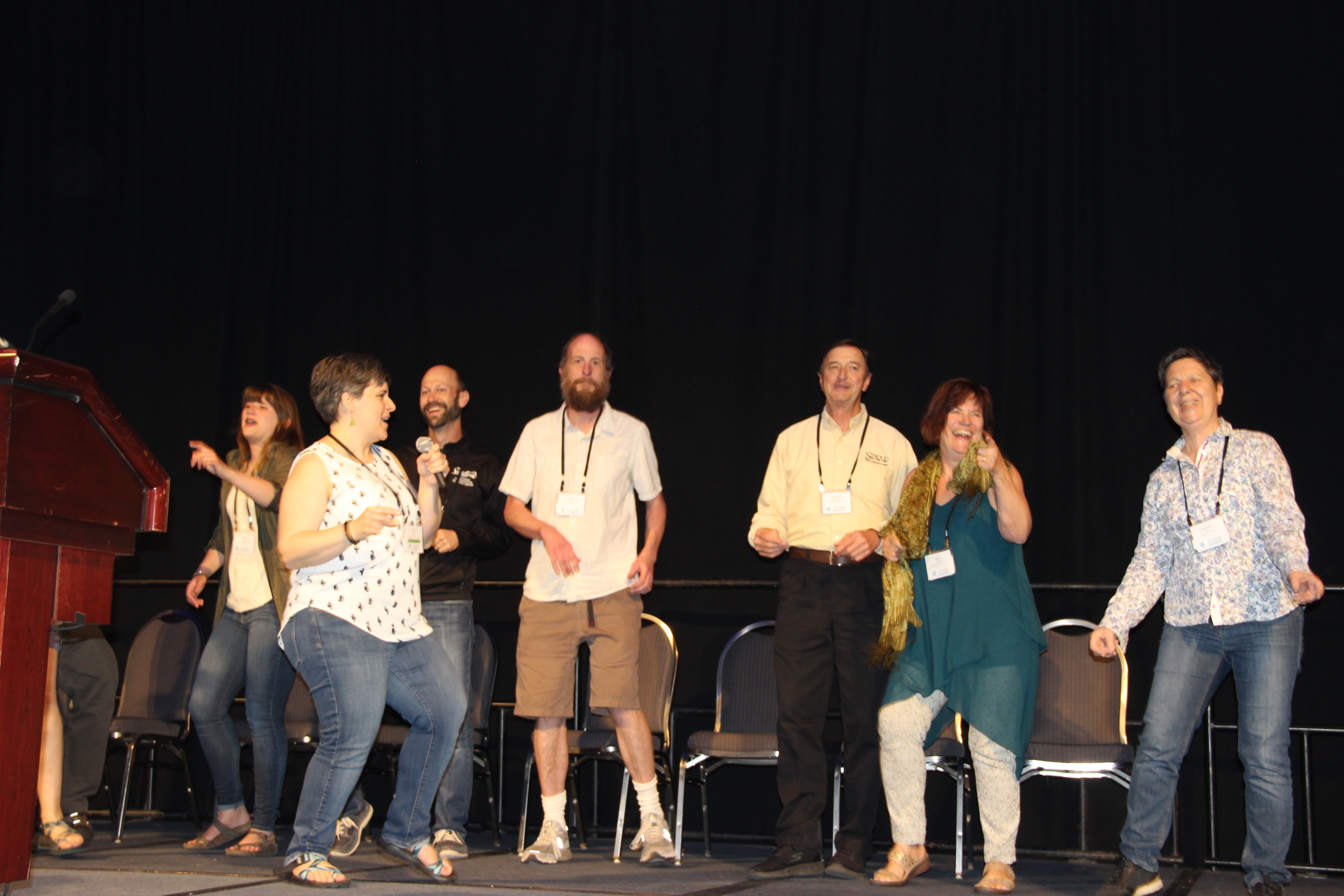 ​
The ever popular karaoke event featuring SFS Vice President Amy Marcarelli as lead singer. Photo Credit: Mark Wetzel.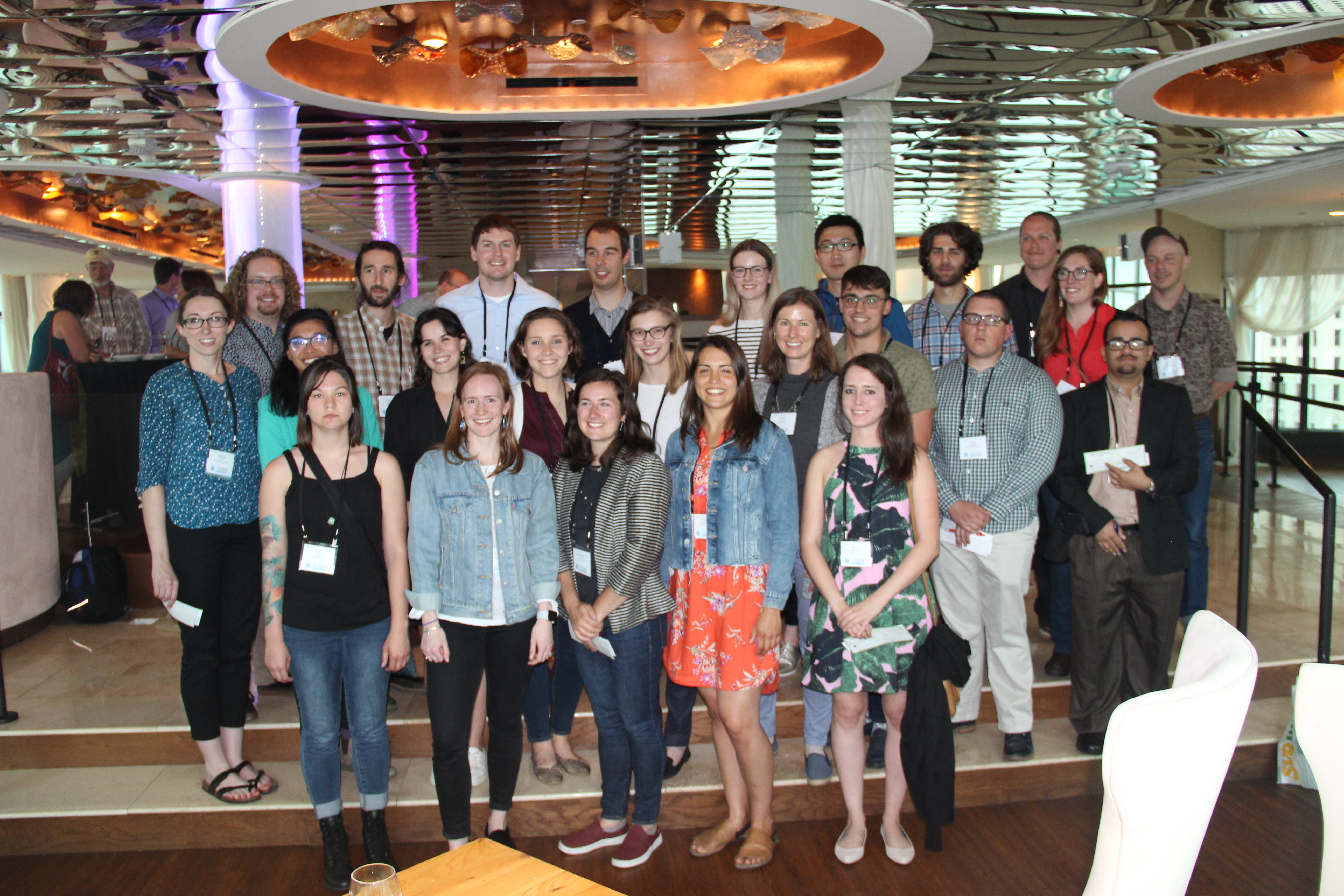 ​
The 2018 SFS endowment student award winners. Photo Credit: Mark Wetzel.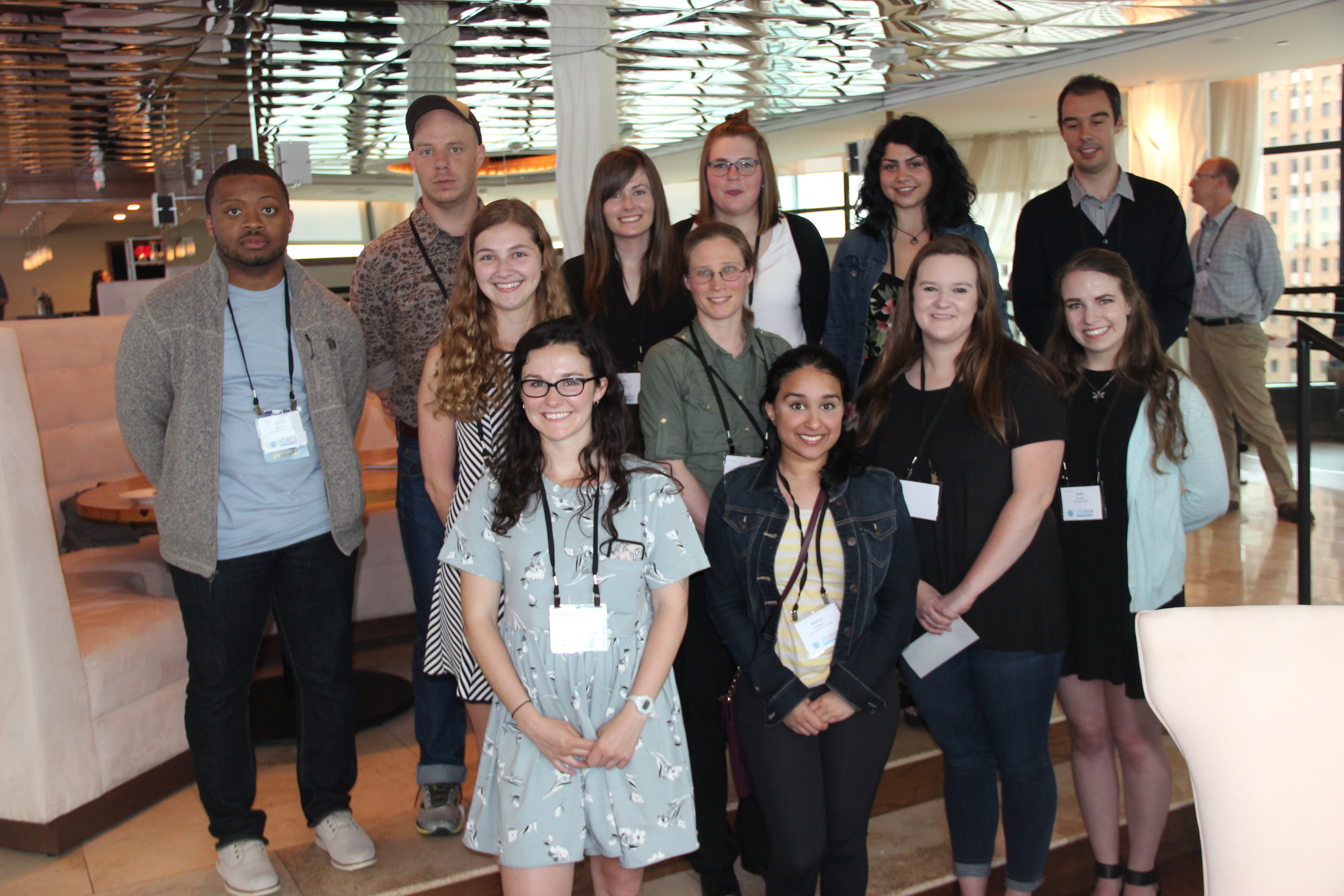 ​
Undergraduate students of the 2018 SFS INSTARS Program. Photo Credit: Mark Wetzel.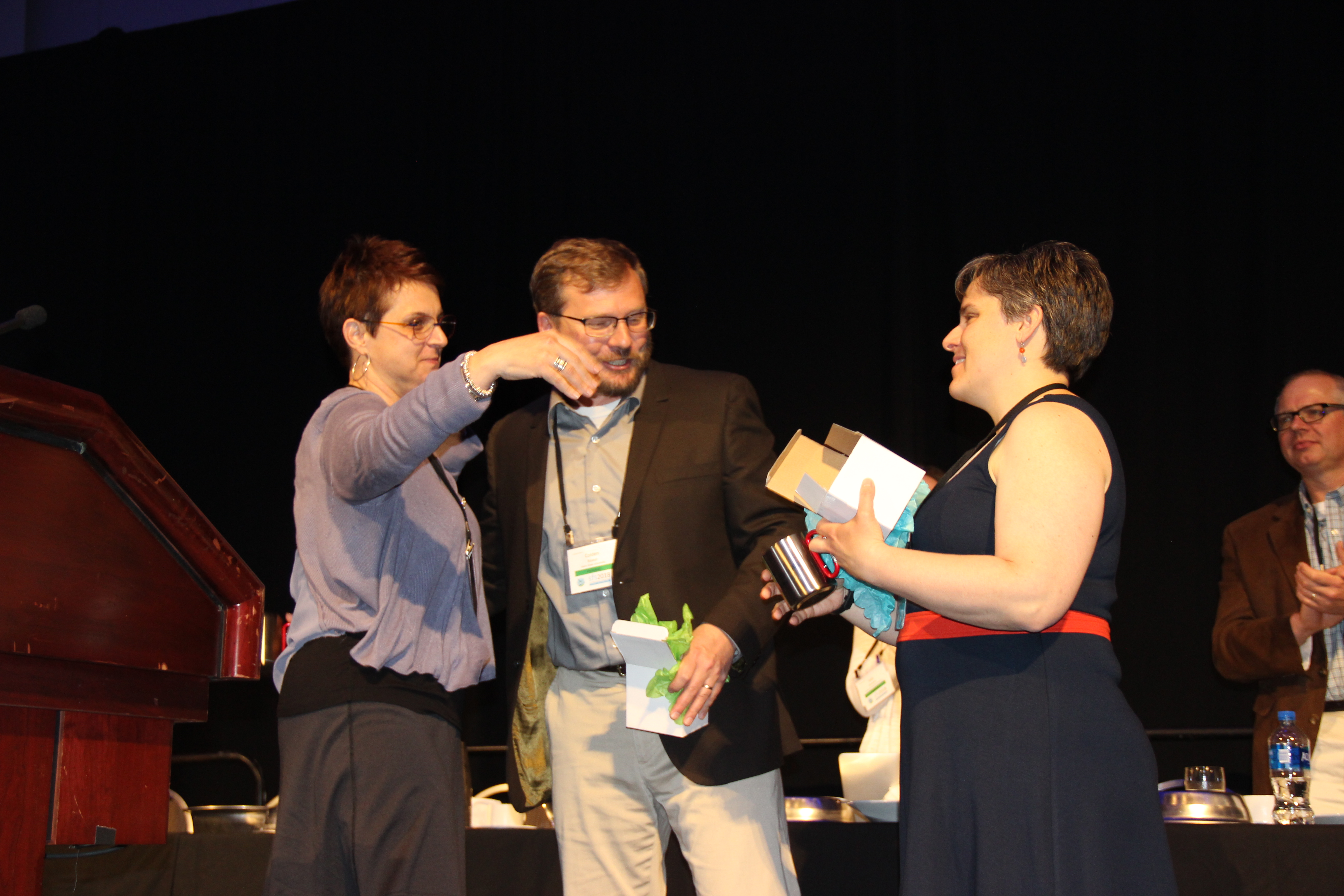 ​
SFS President Jen Tank, left, receives the ceremonial coffee cup from past president Colden Baxter and SFS Vice President Amy Marcarelli. Photo Credit: Mark Wetzel.
Presentation Award Winners
Each year at the annual meeting, SFS members judge oral and poster presentations to students to provide feedback and recognize the excellent work done by our student members. This year, the quality of student presentations was as high as ever. We are pleased to announce the winners of the presentation awards listed below. Congratulations to the winners as well as all of the students who contributed presentations at the 2018 meeting!