Thursday, February 7, 2019

​
In the Drift: Issue 33, Winter 2018/19
In this issue
Dear Society for Freshwater Science,
Your winter issue of the SFS newsletter is here! Among the highlights in this issue, is timely advice about federal employement from Nick Aumen in Dear Nick. I want to thank former SFS president Dave Penrose for calling to our attention that several freshwater scientists have been affected by CA wildfires. Let's join together as a Society and donate to their cause!!. As usual, this issue is packed with other relevant news and resources offered by SFS.
Enjoy,
Ross Vander Vorste, editor
VanderVorste.Ross@gmail.com
FPOM
SFS news and resources collected from "the drift"
---
Article Spotlight
By Ross Vander Vorste
Bowen et al. (2018), Issue 37(2):315--329


​
Some scientists like to tackle big problems. For freshwater scientists, understanding the complex food web of the Great Lakes is arguably the biggest and most ambitious problem to be faced. The Great Lakes – Superior, Michigan, Huron, Erie, and Ontario – cover an area as big as Texas and support more than 3,500 species of plants and animals. Despite the huge size and tremendous biodiversity of the Great Lakes, Kelly Bowen and co-authors Amanda Conway and Warren Currie, are finding necessity in quantifying tiny and often ignored aspects of aquatic food webs.
Along with being the largest freshwater ecosystem in the world, the Great Lakes are also the most heavily invaded. At least 187 non-native species have established themselves in the Great Lakes. Some of these invaders, such as the Zebra (Dreissena polymorpha) and Quagga (D. bugensis) mussels, are highly impactful, both environmentally and socio-economically.
Kelly Bowen, a research scientist for the Ontario-based Great Lakes Laboratory for Fisheries and Aquatic Sciences, described the motivation behind their recent Freshwater Science paper to me recently. She mentioned that although Dreissenid mussels are among the most studied aquatic species, little is known about certain aspects of their life cycles.
Studies of larval mussels, referred to as veligers, are about as rare as a pair of waders that don't leak.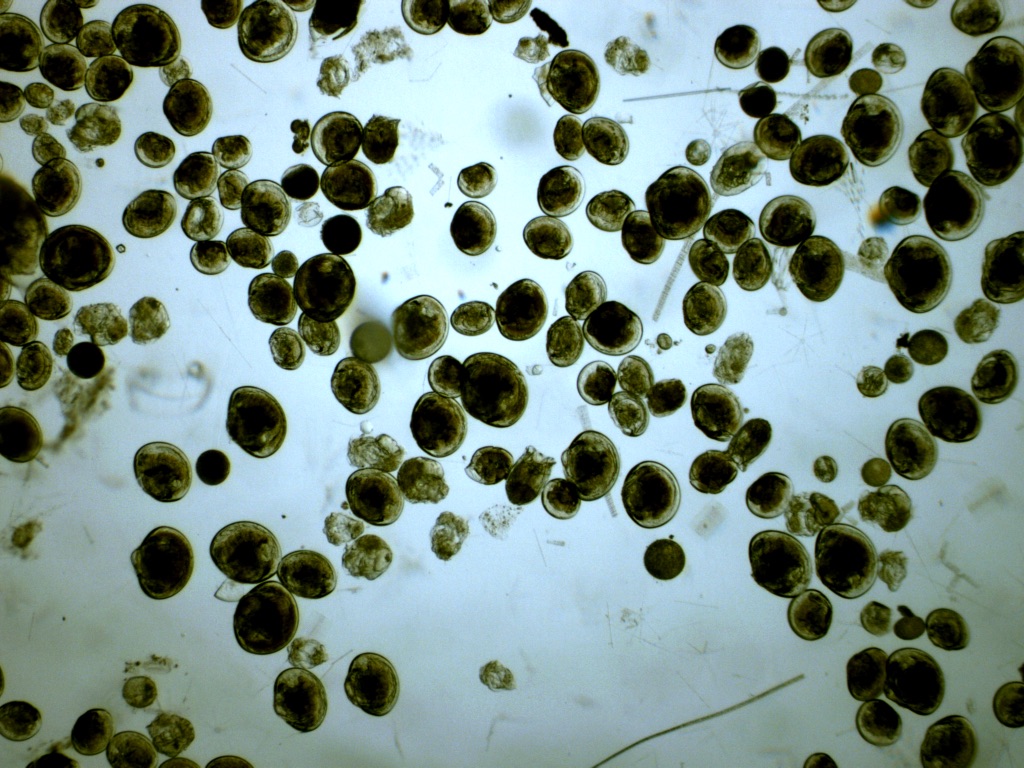 ​
Zebra mussel veligers (40x magnification). Photo credits: Kelly Bowen
One reason dreissenid veligers are not being studied is because of their size, or lack thereof. Bowen and colleagues found that typical sampling of veligers in the water column using 153-μm-mesh nets, can miss up to 75 to 88% of veliger abundance that is captured with a smaller, 64-μm-mesh size. In addition to these sampling inefficiencies, the authors also discovered that veliger biomass has been woefully underestimated. Using a new biomass equation, the authors discovered veliger biomass in Lake Ontario and Erie accounts for up to 39% of total zooplankton biomass.
Bowen described how her co-author Amanda Conway designed a new elutriation technique for the veligers based on methods used to quantify microplastics in aquatic systems. This technique allowed the researchers to more accurately quantify veliger biomass from preserved samples dating back to 1993.
Accurately estimating abundance of dreissenid veligers in the massive Great Lakes also requires hard field work. Bowen and colleagues took biweekly sampling trips between May and October up to 15 km (9 mi) off shore and in sometimes rough waters. Combined, these efforts in the field and laboratory helped the team uncover the unseen and often forgotten importance of invasive mussel veligers in the Great Lakes.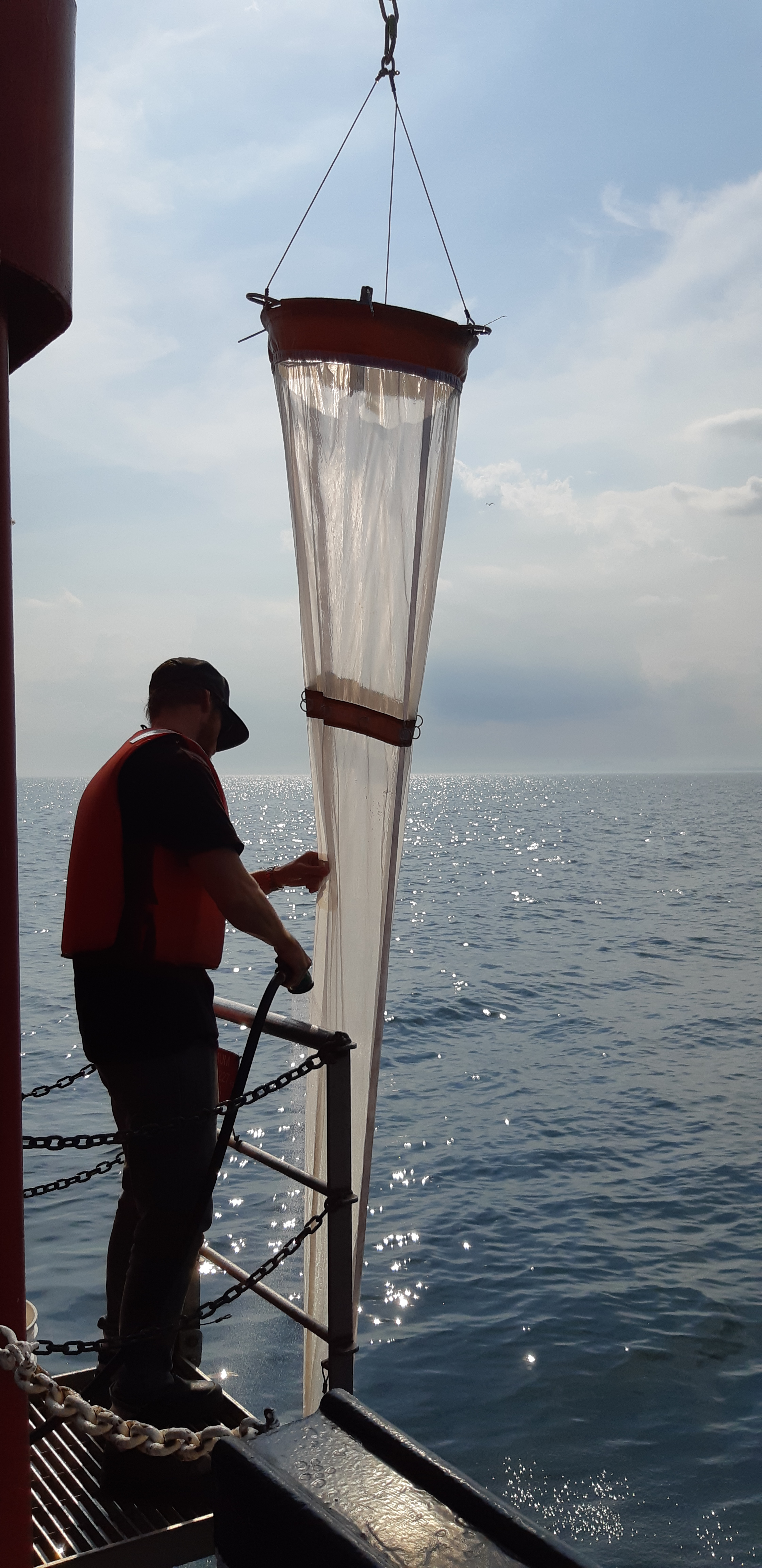 ​
Possibly the worlds largest zooplankton net being used to sample the massive Great Lakes. Photo credits: Kelly Bowen
I asked Kelly, "what's next?" She said now that they have a better understanding of veliger biomass, understanding the veligers importance in aquatic food webs is a justifiable next step. Are dreissenid veligers an important food source for planktonic predators? If so, this could have a big impact on food web models in the Great Lakes and other invaded systems. Furthermore, their future research will explore the fate of veligers to see how many mature into the notorious adults that cover hard substrates in invaded freshwater ecosystems across much of the US and Canada.
Email your recommendations for the FWS Article Spotlight to VanderVorste.Ross@gmail.com.
---
Strategic times ahead: What's your vision for SFS?
The Long Range Planning Committee (LRPC) has spent the fall engaging in deep conversations about the next iteration of the SFS Strategic Plan. Those conversations have reflected on the progress we've made as a society towards implementing our 2009 and 2014 strategic plan goals, and more importantly, where we want to be 10 years from now in 2029. Toward that end, we've spent much of the Fall learning and planning to ensure our new strategic plan is produced through an inclusive, well-informed process.
A good strategic plan should not be reactive or tactical, but instead should emerge from a core mission, vision and set of values established by our society. SFS has a mission statement (a very long one you can read on our website https://freshwater-science.org/about; for comparison check out ACS's (https://www.acs.org/content/acs/en/about/strategicplan.html). SFS is currently lacking a vision – a clear, concise statement of what we want to be – and a clear statement of our core values.
The fact that we haven't had these hasn't been an issue in the past, in part because it was quite clear at the time what was needed to grow and strengthen the society. For example, changing the society's name to better reflect our membership, strengthening our voice on science policy by partnering with other scientific societies, and professionalizing by hiring an executive director were a few of the initiatives that were completed under our past strategic plans. Thanks in large part to those strategic plans we have supported our student and early career members, increased our efforts to become more diverse and inclusive, and maintained our commitment to taxonomic training (we'll share more history and details on these successful initiatives over the coming months).
But now we're in a different place – the hard work of many of you has built a strong foundation that allows us to take the time to ask ourselves where do we WANT to go, and who do we WANT to be as a society. Results of the recent survey conducted by the LRPC highlights this conclusion. We had 340 members respond to the survey with good representation from student, early career, non-academic and other groups within the society. Our preliminary analysis of the results showed that the society broadly supported the strategic goals of the past plans, but no single goal currently stands out as uniformly important to address in the near or long-term future. We will continue to analyze these results for insight, but it's clear we need to think more deeply before moving ahead with the strategic planning process.
These are big, deep questions that need input from all of our members, not just the LRPC or Board of Directors (BoD). Therefore, the LRPC has proposed, and BoD has approved, a modified timeline for the ongoing strategic planning effort. Instead of preparing the complete plan for a membership vote at the annual meeting in 2019, we'll instead spend the spring developing vision and values statements based on discussion with the Board, with committees and delegates, and with input from you gathered via short surveys and/or solicitations for comments. Our goal is to have several draft vision statements for the annual meeting, and for members of the LRPC to conduct listening sessions in Salt Lake City. By the end of the meeting, we plan to have a vision statement ready to present to the society, which will guide the goals and initiatives outlined in the next strategic plan, to be produced in the months following the meeting.
What does this mean for you? First, please think about what SFS is to you, and what you want it to be in the future. Do you think we're great as we are? Do you see opportunities for growth and improvement? Have you felt distanced from the society because of something that has happened? Please let us know, it's all helpful! Be prepared to respond to upcoming surveys and to talk to us at the annual meeting, or send suggestions now to the LRPC chairs. If you're on a committee, think about what you have done in response to the past strategic plan, and where you'd like to see your committee grow in the future. Love strategic planning and want to get involved in reviewing drafts or working behind the scenes? Let us know!

- Amy Marcarelli (ammarcar@mtu.edu) and Steve Thomas (sthomas5@unl.edu)
---
Wildfires Impact the California Aquatic Bioassessement Lab
By Dave Penrose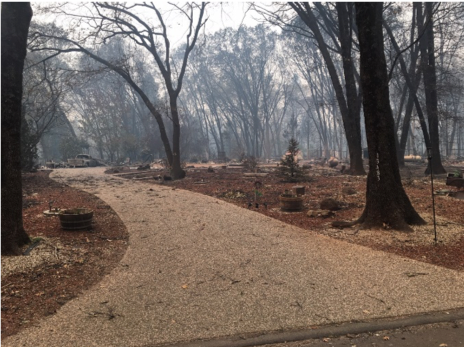 ​
The recent fires in California were the most destructive in the State's history with many lives lost and thousands of structures destroyed. Included in those structures were the houses of five California biologists; Dan Picard, Jen York, Joe Sluzark, John Sandberg and Tracy Morman.
These folks work with the Chico Research Foundation as part of the California Fish and Wildlife Commission. The homes were destroyed as you can see, but there was the loss of memories, taxonomic equipment, reference specimens and much more that insurance reimbursement probably won't replace.
On a positive note, generous donors have already given over $20,000 to support for the CA Aquatic Bioassessment Lab. The goal for this fund is $30,000. Let's join together to help meet this goal!

​

---
A tribute to Antoine Morin (1959-2018)
By Antonella Cattaneo, Frances Pick, Yves Prairie, Jérôme Marty, Nathalie Bourassa, and Jennifer Lento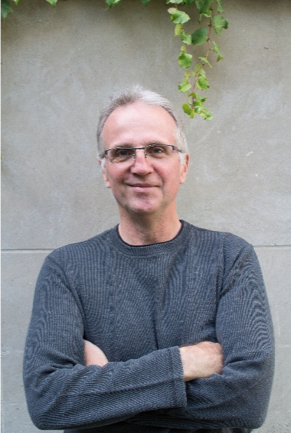 ​
Antoine Morin, professor of biology at the University of Ottawa and long-term member and contributor to the North American Benthological Society/Society for Freshwater Science, passed away surrounded by family on Nov. 16, 2018. His family, friends and numerous colleagues gathered for his funeral in Gatineau, Quebec on Sunday Dec. 2, 2018.
Antoine's passion for stream ecology was first kindled during his MSc under Peter Harper at Université de Montréal and further strengthened during his seminal studies on blackflies supervised by the late Rob Peters of McGill University. His contributions as a PhD student inspired many, including his peers. Several examples from his thesis were used in Peters' books on body size and science (A critique for ecology 1991; Science and Limnology 1995). As a graduate student at McGill, Antoine was always very kind and generous and had a great sense of humour. He was insistent that one should always taste the organisms they worked on. For those at the field station, his pizzas sprinkled with dried blackfly larvae are difficult to forget.
Antoine joined the Department of Biology at the University of Ottawa in 1989. Throughout his scientific career at U Ottawa, Antoine continued to pursue his passion for stream ecology and rigorous scientific testing of hypotheses, with prediction as the ultimate goal. He worked on the streams in Ontario and Quebec, expanding the framework of body size theory from bacteria all the way up to fish and anchoring predictions for primary and secondary production. He was a much sought after colleague to collaborate on questions in macroecology, systematics, ecotoxicology and stream management. He made important contributions to teaching through the co-development of BIODIDAC, an early digital resources for biology, as part of the Regroupement des universités de la francophonie canadienne. His steadfast and exemplary teaching of biostatistics over almost 30 years will be remembered by numerous students, both undergraduate and graduate. He was a teacher who truly cared about the students and their learning experience. He was constantly looking for innovative ways to improve the students' understanding and retention of the material, recognizing the diversity of learning styles within the classroom and giving freely of his time to ensure additional help was available to those who needed it.
At a relatively young age, Antoine was promoted to Full professor in 2000 and became Director of the Department in 2008 for eight years. During this time, he hired many new professors, took great interest in improving the curriculum and quality of teaching while expanding French offerings in our bilingual programmes. Remarkably, he was also active in the professor's association, sitting on the board of directors as well as the executive committee. In 2016, he was appointed vice-dean of graduate studies in the Faculty of Science and, prior to his illness, was analyzing statistics and trends for the faculty to help shape recruitment and support of graduate students. He continued throughout to be our unofficial photographer, capturing us in both serious and joyful times.
Antoine was an amazing mentor to the students he supervised. Students in his lab learned important and fundamental aspects of the scientific method, and he was always available to work closely with them to develop strong hypothesis-driven research projects. He took the time to go out in the field with his students, not just to take pictures (his photography skills were unmatched), but also to teach them how to sample, what to look for, and which data to collect. When the research required new equipment or techniques, Antoine never hesitated to work closely with the students to develop what was needed, helping to ensure the success of their projects. He gave so much of his time to reviewing his students' work, ensuring that any posters, presentations, or papers were as close to perfection as possible. Through this, he taught his students to strive to create the best possible products, and to always look for ways to improve their work and make sure they were producing strong science. But Antoine was more than a mentor to his students, he was also a friend. He was there for the important life moments, always with his camera ready to capture them, including engagements, weddings (even acting as wedding photographer for one of his students), and expanding families. He imparted perhaps one of the most important lessons to his students: work is not your life. You have to take good care of your family and friends, and take care of yourself too.
Aside from extraordinary service to the university, Antoine was very active in the scientific community, particularly in the North American Benthological Society (NABS) where he was web master for 12 years. Anyone who worked in his lab during this period witnessed the countless hours he spent maintaining the website and managing communications for NABS, working tirelessly to ensure everything ran smoothly. From NABS (now the Society for Freshwater Science)), he received a Distinguished Service Award in 2003 in appreciation of his time as web master and his time on the editorial board of the Journal of the North American Benthological Society (8 years up to that point). The DSA Subcommittee, responsible for awarding this honour, noted the importance of the website to NABS members and the scientific community at large, and stated, "[we] particularly recognized Antoine's extraordinary efforts on the NABS web site. NABS members are very proud of our web site and use it heavily… It is clear that the success of the web site owes everything to Antoine's vision and hard work." (source: NABS 2003 Annual Meeting program). He is still spoken of in the SFS community as a "legend" for his work developing the website and creating and maintaining a NABS listserv.

All through these scientific and academic achievements, Antoine remained a warm collaborator and friend, generous of his time and ready to share statistical insights and good recipes. We like to remember him with a glass of wine, his mischievous smile and characteristic laughter.
---
Dear Nick - advice from Nick Aumen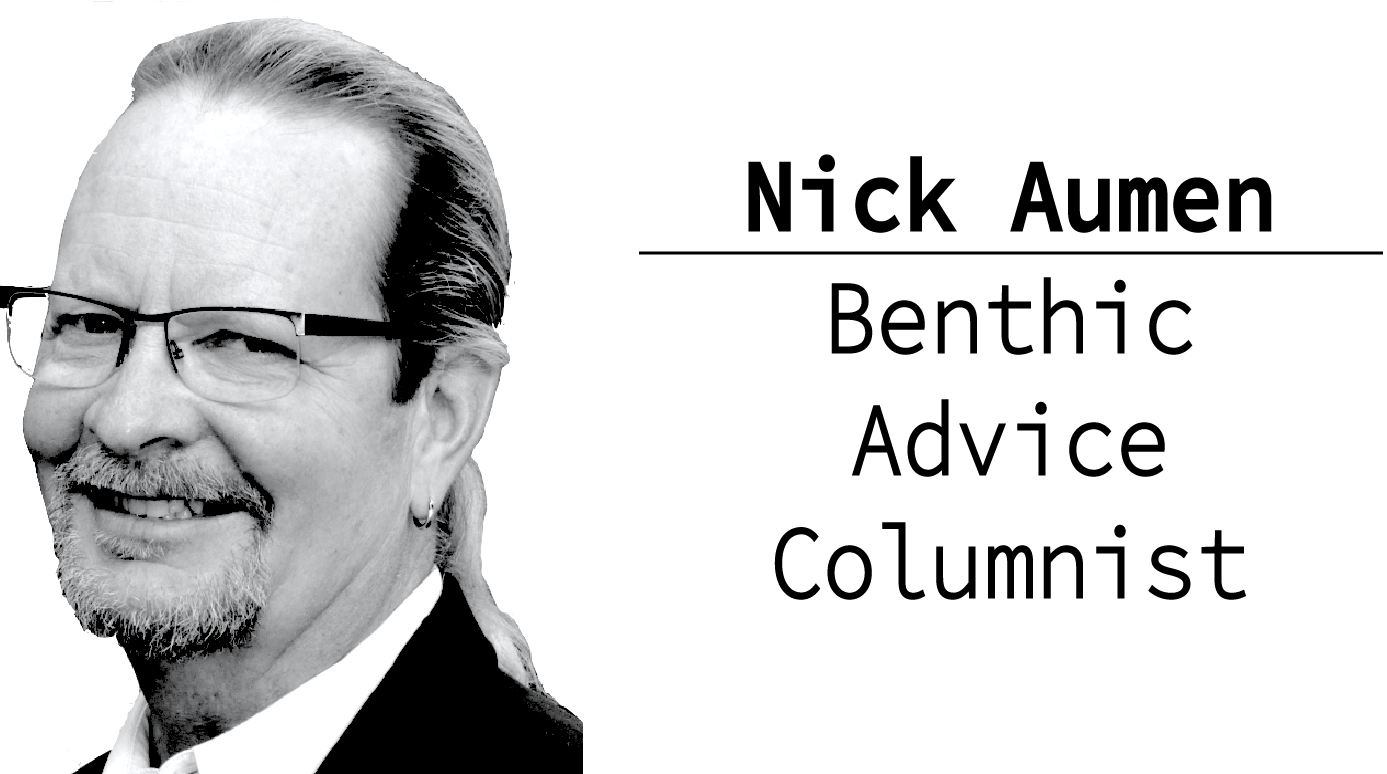 ​
DEAR NICK: I am about to graduate, and I am interested in seeking employment as an aquatic scientist with the federal government. I have heard that these jobs are next-to-impossible to get, and that I should not even try. Is this true? If not, what are the best things for me to do in order to get a federal job? – AN ASPIRING FEDERAL SCIENTIST
---
DEAR ASPIRING: I think it is great that you are aspiring to a science-related career in the federal government. I have worked in academia, state government, and now the federal government, and I find that civil service has been one of the most rewarding phases of my career. I have had the pleasure working with highly qualified, knowledgeable, and committed federal employees, and have been able to make significant contributions to public land management and restoration. As our planet's population continues to expand and the pressures on our natural resources mount, it is very important that high-quality science is being conducted and applied to decision-making.
These types of jobs are not impossible to get. Although funding for some federal science programs has been reduced in the last decade, such reductions have been offset by the need for new hires to replace our aging workforce and to satisfy the increased need for scientific research to address existing and emerging scientific issues. When I look around my agency, I am struck by the high percentage of retirement-eligible employees and the need to replace that lost expertise and experience with young, motivated scientists to lead us in new directions.
I also urge you to look beyond the recent government shutdowns and see the long-term opportunities that exist in public service. While these shutdowns do affect the work we do, the need remains for good science, and for qualified scientists to fulfill agency missions.
For freshwater aquatic scientists, the federal agencies and their bureaus to target are: Department of Interior (which includes National Park Service, US Fish and Wildlife Service, US Geological Survey, and Bureau of Land Management), Department of Commerce (which includes National Oceanic and Atmospheric Administration), Department of Agriculture (which includes Agricultural Research Service, Forest Service, and Natural Resources Conservation Service), and Environmental Protection Agency.
The only website to apply for federal jobs is www.usajobs.com. Here, you can create a profile, search for all federal jobs for which you are qualified, enable automated searches for jobs that match your desired criteria and request regular emails with search results, and make your resume searchable by federal recruiters. The key to applying through this website is to only apply to jobs for which you have the required education, and to jobs for which you are eligible. In some cases, federal jobs that are temporary in nature or with contractors working for the federal government may be a good way to get your foot in the door for a permanent position. Another route might be through postdoctoral positions that are offered by some agencies.
Finally, I believe it is important to find a way to stand out from the crowd. I suggest that you emphasize your background and experience in similar areas of work, obtain glowing references from previous supervisors, professors, and colleagues, and make personal contact with the person(s) making the hiring decision (usually a different person than the human resources staff actually conducting the search). The hiring authority typically is the person who would supervise the position and make the selection of the best candidate. They should be willing to speak with you and provide you with information related to the position. Also important are a good resume that showcases your fit to the position, a short cover letter that highlights your interest and qualifications, and a well-executed application that matches your knowledge, skills, and abilities with the requirements of the position.

Good luck in your pursuit of a federal scientist job!
- Nick
---
SFS Career Awards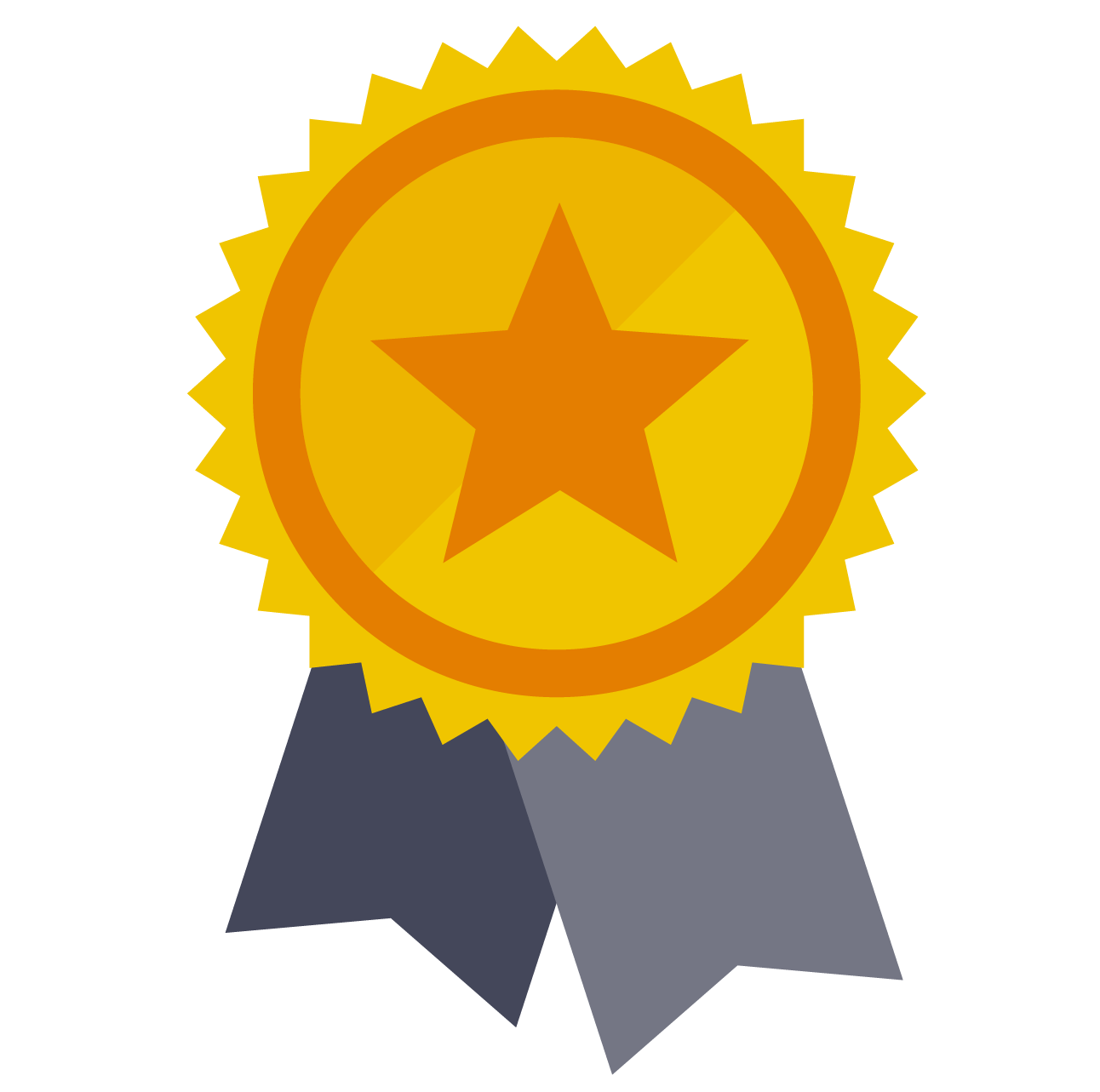 ​
Congratulations to the following award winners announced in January. Click to see biographies and past winners.
Distinguished Service:
Award of Excellence:
Environmental Stewardship:
Hynes Award:
Click for info on how you can nominate next year's award winners.
---
Abstract Search Tool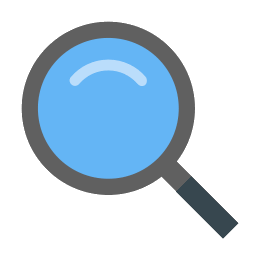 ​
Did you know you can now search meeting abstracts dating back to 1997?
Abstracts from 1997-2012 and 2015-2018 are online for your easy searching.
Ever wonder what you submitted at your first NABS/SFS meeting?

---
2018 Pacific Northwest Chapter Meeting Recap
By Chris Zell

​
Sun Valley is home to the Big Wood River, celebrities, great craft beer, and scientists attending the 2018 Annual Meeting of the Pacific Northwest Chapter of SFS. Ecologists from eleven organizations engaged in active dialogue throughout the meeting held November 6 – 8, 2018 in Ketchum, Idaho. Conversations were cultivated from over 20 oral presentations (see:shared presentations) and round robin updates organized across five themes including: stressor-response, thermal and habitat regimes, regional projects, harmful algal blooms, and sampling methodologies. Attendees were treated to stunning vistas of the Sawtooth range, upscale accommodations (thank you Knob Hill Inn), the energy and talent of the Idaho State University Stream Ecology Center, and stories about planning sample surveys across celebrity properties (yes, Tom Hanks is a great guy!).
In addition to welcoming new Chapter officers (Bob Danehy-President, Chris Zell-Secretary), our 2018 meeting included discussion of multiple new initiatives. These initiatives include social media engagement (thank you Hannah Harris), newsletter development, creation of annual or career achievement-based awards, and exploring approaches to fund graduate student attendance of annual meetings. Kudos to outgoing officers Dorene MacCoy and Francine Mejia for their leadership, and for planning the 2018 meeting. Thank you to EcoAnalysts, Inc. for sponsoring our breaks. Our 2019 Chapter meeting will be held the week of November 4thin Newport, Oregon.
When renewing your annual SFS membership, make sure to sign up for the Pacific Northwest Chapter. Our meetings are generally FREE, and are great way to network with other professionals in the Northwest. For more information, please contact Bob Danehy at danehy@catchmentae.com.
2018 California Chapter Meeting Recap
By Angela De Palma-Dow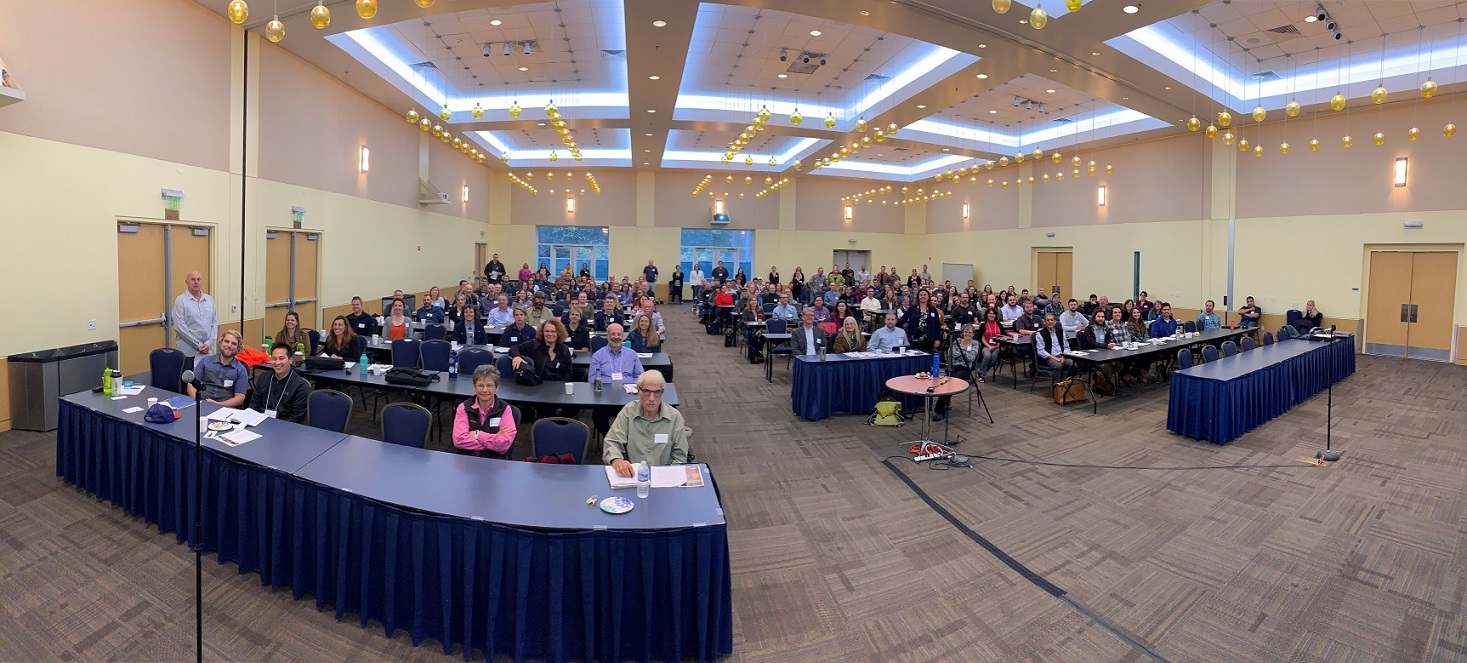 ​
The 25th Annual California Bioassessment Working Group (CABW) and 6th annual meeting of The California Chapter Society of Freshwater Sciences (Cal-SFS) was held at the UC Davis ARC Conference Center on October 23th and 24th, 2018. This was a big year for the CABW because it turned 25!! That's right, for 25 years in a row the CABW has met and shared information about new and improved bioassessment tools, uses, resources, case studies, protocols, policy, and data in the Golden State—and beyond. This year's meeting was not only unique in that it remembered a quarter of a century of bioassessment efforts, but it surmised on the future of bioassessment in California, with the anticipated uncertainty of a changing climate, political swings, unknown economic futures, and a shifting workforce. This meeting encapsulated where we have been, where we are, and where we wish to go.
There were over 230 attendees attending the 2-day CABW / Cal-SFS meeting. The workshop drew 29 participants and raised $700 in donations going towards the student travel awards for the 2019 Salt Lake City SFS Meeting. The Cal-SFS mixer, held at The Graduate, raised $100 also for the student travel awards.
Cal-SFS has new leadership and a new logo! Welcome to the new president elect Nicholas Macias. Nick is a PhD student in the Freshwater and Coastal Ecology Lab at UC Santa Cruz. You can connect with Nick via email at niamacia@ucsc.edu. John Olson remains our Secretary/Treasurer and he can be reached at joolson@csumb.edu or Twitter @JohnCSUMB

​
Passing of the Cal-SFS baton: Former Cal-SFS president Chair Jeanette Howard (right) turned over presidential duties to the new president, Nick Macias (left). Cal-SFS new logo and banner in the background.
Thanks to all those who attended this event!

The 26th CABW / Cal-SFS Meeting will be held Oct 23rd & 24th, 2019 at UC Davis.
---
Two new books in freshwater science with reviews!
Alan Hildrew: Freshwater Acidification: Natural history, ecology and environmental policy
Reviewed by Professor Richard W Battarbee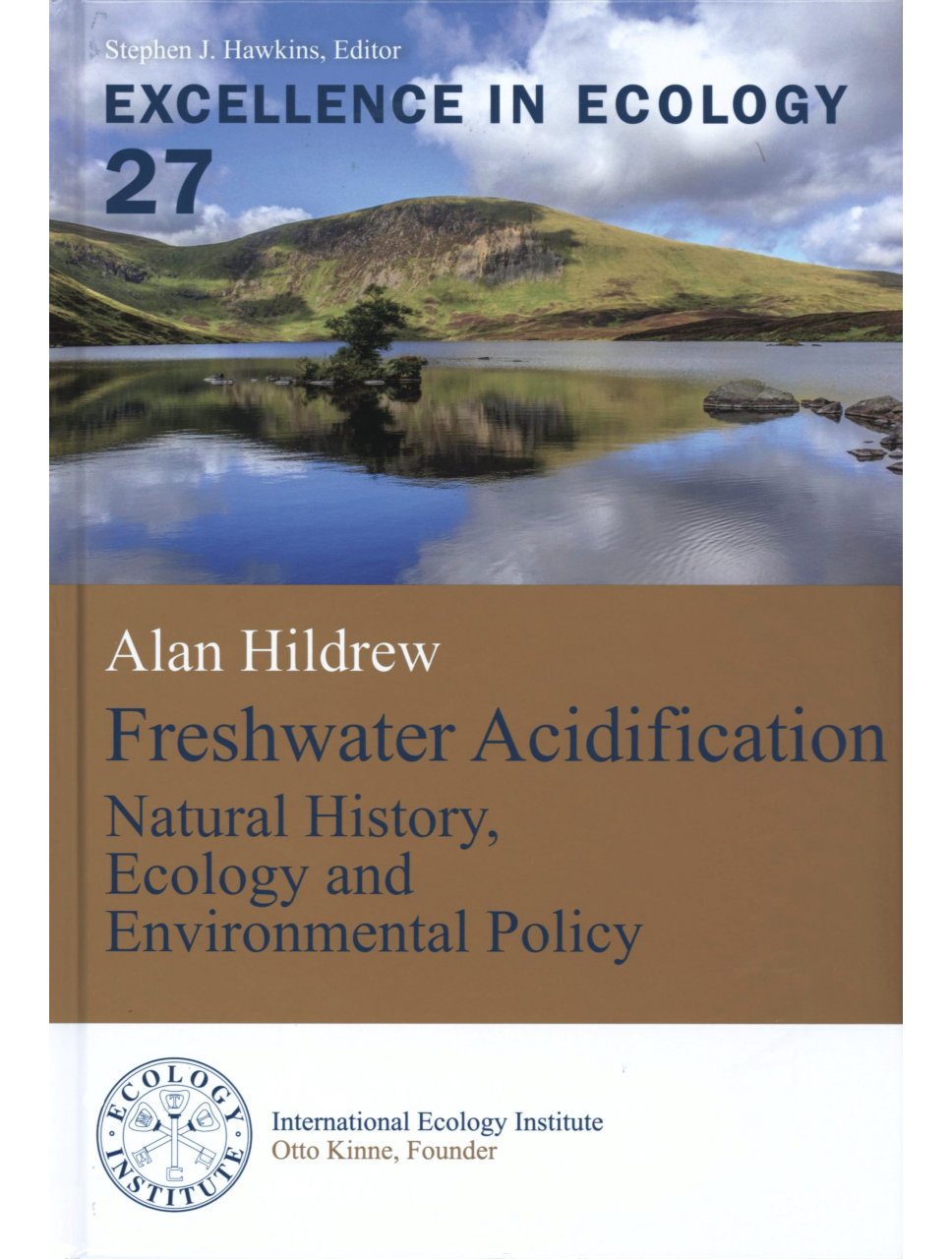 ​
This interesting book by ECI prize-winner Alan Hildrew is a timely reminder of the "acid rain" debate that raged in the 1980s. Acid rain and its effects are no longer in the headlines but freshwater acidification continues to be an issue more than 30 years on. Now is a perfect time to consider whether the ecology of acidified surface lakes and streams has recovered as expected (or at least hoped for) given the major reductions in sulphur and nitrogen gas emissions that have occurred across Europe and North America over recent decades. It is also a perfect time to reflect on lessons learnt from the acid rain debate about the interplay of science and policy in addressing contemporary environmental questions such as climate change.
In setting the scene, Hildrew explains that his interest in acid streams began due to his need to find a relatively simple ecosystem that could serve as a model for studying food webs, his primary research interest at the time. Indeed he admits that in the earliest days of his career he was unaware that the streams he had selected for study in south-east England were not naturally acidic but had become so as a result of acid deposition.
When surface water acidification was recognised as a serious environmental problem in the UK in the 1980s he was well-placed to contribute to the debate. In Chapter 2, History and early evidence he describes the origins of the debate especially the controversy between the UK and its Scandinavian neighbours, Norway and Sweden, over claims that the loss of salmonid fish populations in southern Scandinavia was due to long distance transported air pollutants from the UK and other industrial countries. The UK's denial at the time earned it the reputation of being the "dirty old man" of Europe. To resolve the dispute a collaborative research project, the Surface Water Acidification Project (SWAP), involving scientists from all three countries was set up. Although the SWAP project fulfilled its scientific objectives and thereby caused the UK to change its policy, he laments that insufficient attention was given to research on ecosystems and ecological processes, especially for streams. This book helps to repair that omission and brings the story up to date.
In Chapter 3, Ecological damage and its ramifications, first the empirical evidence for the impact of acidification on biota on different trophic levels including bacteria, fungi, algae, invertebrates, fish and birds is described. Hildrew then asserts that in explaining the impacts of acidity on invertebrate populations too much emphasis was placed in the literature on physiological mechanisms associated with the direct effects of low pH and aluminium toxicity. He argues that species loss or persistence may just as well be explained by competitive interactions between species and species groups through processes such as the release of pressure on large invertebrate predators by the elimination of top predators and changes in the quality and quantity of food available both for grazers and predators in the benthos.
Chapter 4, Recovery and non-recovery from acidification, addresses the key question: has the release of pressure brought about by the measures taken to mitigate acidification led to an ecological recovery? The evidence from monitoring programmes in the UK and elsewhere is that ecological recovery has been less than expected, in some cases disappointingly so, suggesting that the ecological processes leading to acidification driven by water chemistry cannot simply be run in reverse. Again Hildrew prefers an ecological explanation for muted recovery, and puts forward a "biotic resistance" hypothesis in which community reassembly is influenced not only by the relaxation of the direct toxics effects of acidification but also by interactions amongst species, especially the extent to which resident species inhibit colonisation by returning species.
This biotic resistance hypothesis is supported by data from Broadstone Beck, a highly acidified stream in South-east England that Hildrew and his students have studied since 1973. It is a remarkable time-series tracking food web responses to reduced acidity in real calendar time. The data show how as acidity decreases the stream is sequentially colonised by predator species of progressively larger body size, including the surprise appearance of the dragon-fly Cordulagaster boltonii that held sway for a decade during the 1990s, culminating in the return of brown trout in the early part of this century. Recovery is shown to be a process of increasing diversity and food chain lengthening driven by changes in the community composition of predators high in the food web. But the process is not necessarily characterised by a smoothly continuous species turnover but is punctuated by the impact of apparently chance dispersal events and by the timing of interactions between species.
In Chapter 5, A glance back at science and policy, Hildrew moves away from ecology to consider the nature of the science – policy interface as exemplified by the acid rain debate. It is written as an opinion piece. Although he recognises the contrasting missions of scientists and policy makers he commends the acid rain debate as a good example of the two parties working together. By and large scientists at the time provided the information that was requested and needed by policy makers and, in many cases, the demands of policy makers stimulated advances in science, hugely so in the case of palaeolimnology. Having said that, however, he complains with justification that policy makers, at least those in the UK, suffer from "attention deficit disorder", moving on from issue to issue too swiftly and withdrawing funding support prematurely from long-term ecosystem monitoring programmes. I'm not entirely sure how chapter 6, Back to Natural History – "food webs of a second kind" fits into the overall theme of the book but it is a fascinating essay in natural history and it is a timely reminder of the importance of curiosity driven research. Hildrew describes differences between the different groups of caddis fly according to their construction of cases, nets and shelters. He explains, for example, how some caddis produce silk and cultivate algae on the walls of the silk, and how others obtain a carbon source from methane by feeding on methane-oxidising bacteria. This mini review elegantly illustrates the diversity of freshwater life and the novel strategies employed by organisms for survival. It also demonstrates (and I think this is the point of the chapter!) the level of knowledge needed to understand the functioning of natural ecosystems and thereby needed to understand how ecosystems might respond to environmental pressures in future.
In the short concluding Chapter 7, Acid Rain – a postscript and prospects, Hildrew restates concerns over the lack of evidence for widespread biological recovery from acidification and wonders whether an economic value can be placed on the ecosystem services lost and not restored. With reference to climate change he worries whether sufficient attention is being and will be paid to the protection of natural ecosystems despite the important role they demonstrably play in increasing resilience to extreme events and regulating important services such as slowing the flow of floodwaters in the UK uplands. And he hopes that the acid rain debate that required a coming together of scientists and policy makers in the past can provide lessons for today's climate science-policy interface that has so many echoes of the acid rain story.
Overall although I'm not sure it has the coherence that the author intends or hopes for, the book is an important and enjoyable read, the science is authoritative, the opinions are perceptive and sometimes trenchant and the underpinning narrative is at times engagingly personal. I highly recommend it for freshwater ecologists, environmental scientists and environmental policy makers.

Richard W Battarbee
Environmental Change Research Centre
University College London
Jan 29, 2019
---
Jocelyne M.R. Hughes: Freshwater Ecology and Conservation: Approaches and Techniques
Reviewed by Professor Steve Ormerod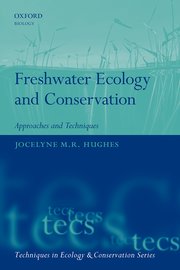 ​ ​
Useful freshwater overview for early career stages
This is an edited volume of 440 pages with contributions from around 50 authors to 19 chapters. The content is divided into three sections offering 1) an overview of the diversity of freshwater ecosystems, approaches to freshwater ecology and sampling strategies; 2) eight discipline-oriented chapters on 'measuring the component parts' of freshwater ecosystems (water quantity/hydrology, chemical determinants, physical variables, autotrophic and heterotrophic microorganisms, wetland plants, vertebrates and macroinvertebrates) and 3) 'ecosystem dynamics, conservation and management', in which eight chapters address freshwater populations and their interactions, changes through time, using data, ecosystem services, invasive non-native species, freshwater ecosystem security and climate change, restoration, and catchment management.
With its mostly classical structure – and its emphasis on methodological overviews of specific disciplines or taxonomic groups – the book will suit those early in their freshwater career more than established researchers seeking the cutting edge. The authors also send out a signal very early on, also, that standing water wetlands are the biggest focus of interest: in the only colored plate in the entire volume, there is a map that depicts the global distribution of wetland types and 12 beautiful images of low-relief standing waters.
Taking the book section by section, inevitably in an edited volume there are variations in balance, design and depth among chapters. In the three opening chapters (Section 1), Chapter 1 purports to review the diversity of the Earth's freshwater ecosystems, yet gives only two paragraphs to the remarkable variety of the Earth's rivers while peatlands are given two pages. Chapter 2 would have benefitted from a clearer articulation of the problems of freshwater conservation and the general aims of freshwater ecological research as ends in themselves as well as in application to problem solving.
Chapter 3 offers an overview of the sampling strategies required for the scale-dependent complexities of freshwater ecosystems but, while intrinsically useful, might arguably have sat more comfortably alongside 'Measuring the component parts' in Section 2 given its technical emphasis.
Chapters in Section 2 overall have the greatest utility for those entering the subject as short methodological overviews. Chapters 4, 5 and 6, for example, on water quantity, quality and physical character, are sleek and informative, though in the latter two chapters there is more interest from the authors in standing waters than in the dynamics of running waters. Chapters 7, 8 and 9 on microorganisms and wetland plants are all valuable, though under-represent some of the important, emergent ecosystem processes performed by these groups, for example with respect to allochthony, macro-nutrient dynamics or, in some systems, methanotrophy. Chapter 10 provides and overview of vertebrates in or around freshwater ecosystems, taking a census/sampling perspective rather than a functional perspectives of why the links between vertebrates and rivers, lakes and wetlands are important. Chapter 11, on macroinvertebrates, is too short to get to grips with the challenges of sampling these organisms quantitatively, but has a very innovative section on removal sampling.
The multi-disciplinary and problem-solving thinking in the book's third section, for example on ecosystem services, catchment management and climate change, is once more of a scale that seems designed for those seeking an introductory perspective rather than in-depth insight. Some of these chapters, for example on restoration, come from internationally recognised authors, and provide mature and carefully constructed summaries of their subjects. Simultaneously, however, there are some unexpected omissions from the book's integrative sections, particularly on the evidence for biodiversity loss and impairment in freshwater ecosystems, the many challenges of addressing the multiple stressors responsible, or the full array of options available for freshwater conservation. Facets of these issues arise implicitly in the existing chapters, but a book with 'Conservation' in the title might have had greater appeal if this topic had been a more explicit and more substantial focus. This struck me as the biggest disappointment in this volume given the current scientific and political emphasis on the rate of degradation of the Earth's rivers, lakes and wetlands. Having identified the perilous state of freshwater biodiversity, one of the biggest needs is now to find workable solution to the problem, but little here is on offer: the combination of market based instruments, payments for ecosystems services, biodiversity offsetting and water quality trading are despatched in just two and half pages, and the focus is overwhelmingly on wetlands.
Overall, then, a volume that offers introductory, methodological overviews for early-career researchers.
Steve Ormerod
School of Biosciences
Cardiff University
Jan 15, 2019