Environmental Stewardship Award
2021: Mary Freeman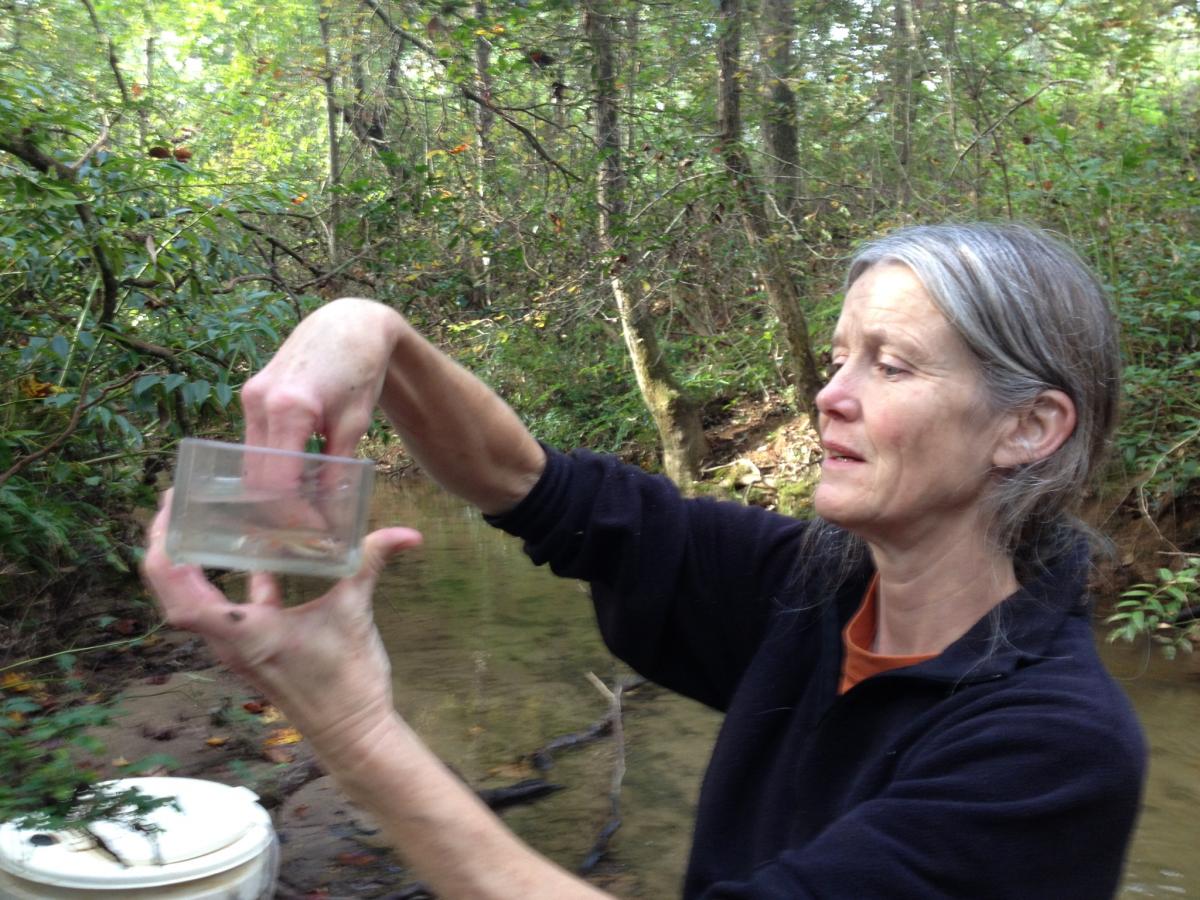 Mary Freeman's career can be defined by her application of cutting-edge methods to address critical problems in freshwater ecology and conservation, thoughtful communication of science with managers and the public, and service as an outstanding mentor and example to students and peers. 
Mary is a research ecologist with the US Geological Survey. Mary received graduate degrees in Entomology and Forest Resources from the University of Georgia. Her early research focused on how native fishes persist in altered flow regimes downstream from hydropower dams and current work continues to address effects of changing land use and stream hydrology on various biota, including fishes, invertebrates, and macrophytes. Handy with a seine even in her 60s, Mary's particular passion is conservation of rare fishes native to southeastern US streams. 
Mary's dedication to communication and connection with water managers and stakeholders has helped lead holistic management and conservation strategies for rivers in the United States and abroad. Ben Emanuel of American Rivers noted "she speaks in a way that's unassuming yet deeply impactful, from long experience in the science of environmental flows and from her rich history of fieldwork in vitally important river systems." 
Mary serves on the graduate faculty at the University of Georgia, where she has been fortunate to work with many brilliant student and faculty colleagues. Mary has inspired a generation of freshwater ecologists to think deeply, to consider both the big picture and the details, and to connect with others through patience, respect, and understanding.
About the Award:
The recipient of the SFS ESA will be a Society member or non-member who has successfully translated scientific knowledge into the social/public arena through policy or regulatory reform, research that enhances freshwater ecosystem rehabilitation or conservation, or public outreach and science education that strengthens public support for managing freshwater ecosystems.  The nominating letter should clearly and directly link the nominee's activities to positive policy, conservation, and/or societal outcomes regarding the preservation and wise management of freshwater ecosystems.  Nominations of people from underrepresented groups are strongly encouraged to increase the diversity of SFS Awardees.  Submit your nominations using the SFS Awards Nomination Portal linked at the top of this page.
Recipients
2016 | Jim Harrington
2015 | Stephen K. Hamilton
2014 | Michael T. Barbour
2013 | J. Bruce Wallace
2012 | Jerry Jacobi
2011 | Susan P. Davies
2010 | William Hilsenhoff
2009 | Chris O. Yoder
2008 | David Penrose
2007 | Ben Stout
2006 | Bob Hughes
2005 | James R. Karr
2004 | Susan K. Jackson