Pacific Northwest Chapter
Thank you to outgoing Chapter Chair Dorene McCoy (dmaccoy@cityofboise.org) and Secretary-Treasurer Francine Mejia (fmejia@usgs.gov).  We want to extend our gratitude to Dorene and Francine for their leadership and service to SFS, the Chapter, and our aquatic resources during an important transition period for the Chapter.
Please welcome incoming Chair Robert Danehy and Secretary-Treasurer Chris Zell!
Chapter Chair - Robert Danehy
Bob Danehy is an aquatic biologist who has worked in lakes and streams.  Most recently he has focused on forest and stream relationships and their influence on instream biota.  Research interests include biological diversity, headwater system ecology, and fish bioenergetics.  Bob is currently working in paired watershed, road erosion, and disturbance recovery studies in the PNW.  He earned a Ph.D. at SUNY ESF, Syracuse, NY. 
You can reach Bob via email at danehy@catchmentae.com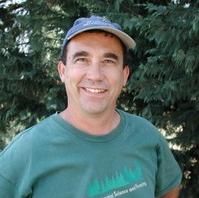 Secretary/Treasurer - Chris Zell
Chris recently transitioned into the Regional Monitoring and Biocriteria Coordinator position(s) in EPA's Office of Environmental Review and Assessment in Seattle. Chris is a professional hydrologist with more than 17 years of experience in reviewing, performing, and managing Clean Water Act related investigations across state, private, and federal settings. His technical interests and experiences occupy the nexus of aquatic ecology, hydrology, mathematical modeling, and statistics. Chris completed his undergraduate degree in Biology with a focus in Fisheries and Environmental Management from South Dakota State University and Master's degree in Water Resources from the University of Missouri.
You can reach Chris via email at zell.christopher@epa.gov

Upcoming Events
November 19-20, 2020
REGISTER FOR BOTH DAYS OF THE VIRTUAL CONFERENCE HERE!
DAY 1
Starts: Nov 18, 2020 01:00 PM Pacific Time (US and Canada):
Register in advance for this meeting:
https://zoom.us/meeting/register/tJ0kc--srzovGtDI7eJ6Jdi27GstkwHxDRAM
DAY 2
When: Nov 19, 2020 09:00 AM Pacific Time (US and Canada)
Register in advance for this meeting:
https://zoom.us/meeting/register/tJYode2pqz0rGtSyFzPUFhKLw1tHNv9fMGId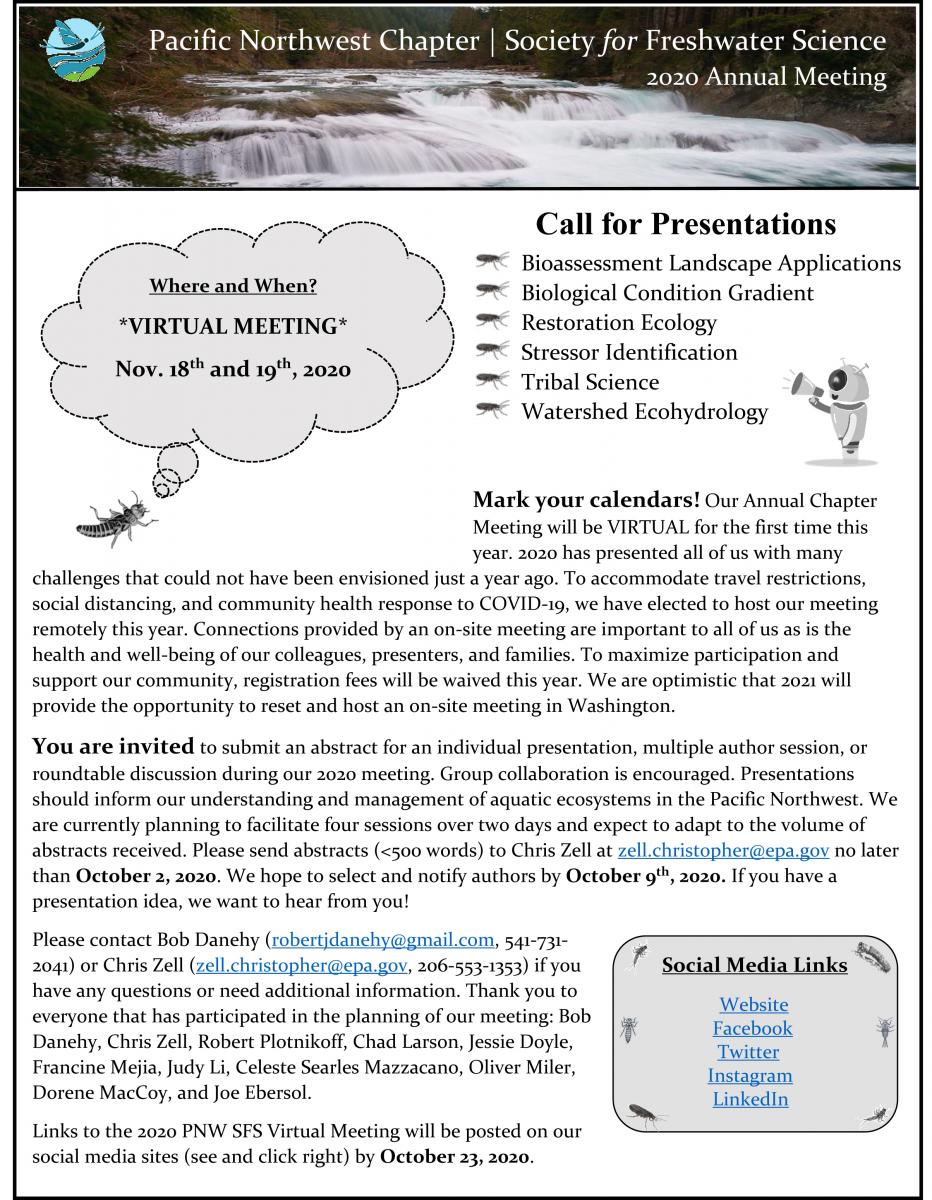 Past Events
Annual Meeting of the Pacific Northwest Chapter (November 6-8, 2019 in Newport, Oregon)
MEETING AGENDA (UPDATED Oct. 29, 2019)
Annual Meeting of the Pacific Northwest Chapter (November 6 – 8, 2018 in Ketchum, Idaho)
Our 2018 meeting will be held in the main conference room at the Ketchum community library. A block of rooms has been reserved at the Knob Hill Inn (https://www.knobhillinn.com) in Ketchum, Idaho. Interested parties may contact the front desk agents at (208) 726-8010 and reference the SFS-Society of Freshwater Science in order to receive the group rate. Rooms available on a first come first serve basis. For more information about the beauty and recreation opportunities in the Ketchum and Sun Valley area, check out: https://www.visitsunvalley.com/  and https://ketchumidaho.org/.
Membership Goal
This chapter is a transition from the Northwest Biological Assessment Workgroup which was a collaborative effort between State, Federal, Tribal agency, academic, and private industry founded in 1990. Membership is open to anyone who is interested in freshwater biotic communities and their role in aquatic ecosystems in the Pacific Northwest (generally, but not limited to: British Columbia, Idaho, Oregon, Washington, and Northern California).
Mission Statement
The purpose of the Pacific Northwest Chapter is to promote better understanding of the biotic communities in freshwater aquatic ecosystems of the Pacific Northwest. The chapter encourages and facilitates the use of benthic macroinvertebrates and fish assemblages and other biota in the assessment of the condition of freshwater aquatic resources and other environmental and natural resource management decision-making. 
Pacific Northwest Chapter Social Media
If you have content to share on the chapter's social media channels, please send it via email to sfspnwmedia@gmail.com. Ideas for content include chapter members, future members and current freshwater research!