``
Mission Statement
The purpose of the California Chapter is to promote a better understanding of freshwater ecosystems like rivers, lakes, and wetlands in California and in adjacent western deserts and mountains. Understanding the structure and function of these ecosystems and their connection to watersheds and landscapes will lead to improved assessment, conservation, and restoration of these important environments and natural resources. The Chapter shall foster exchange of scientific information among the membership, and with other professional societies, resource managers, policy makers, educators, and the public. The chapter encourages and facilitates the use of biota (fish, invertebrates, and algae) in assessing the condition of freshwater aquatic resources and natural resource management. The Chapter will conduct an annual conference, generate funds to support student membership and attendance at annual meetings of both the Chapter, and the Society for Freshwater Science.
Membership Goal
Any member in good standing of the SFS can become an active member of the Chapter, whether or not they live in California. Many of the members are current participants of the California Aquatic Bioassessment Workgroup (CABW) which has met annually since 1994. The Chapter also pursues members from California's professional scientists and students interested in all freshwater environments and organisms, bioassessment, and stream ecology.
Officers
President/ Chair: Angela De Palma-Dow (Adepalmadow@gmail.com) 
Secretary / Treasurer: John Olson (joolson@csumb.edu) 
Past Preseident: Nicholas Macias (themacrolatino@gmail.com)
Past Secretary / Treasurer: Raphael Mazor (raphaelm@sccwrp.org)
Newsletter

Upcoming Events
2022 Cal-SFS Fellowship Application
Additional 2022 dates forthcoming.
CalSFS on Social Media
Highlight from 2021 Water Data Symposium
 2021 CABW Traditional Ecological Knowledge Panel and Workshop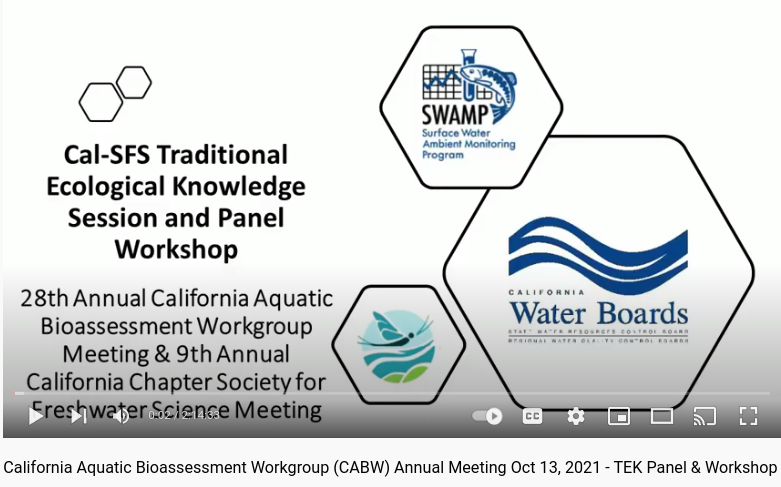 CalSFS Website
Check out what Cal-SFS members are doing on the new SFS California Chapter webpage.